Originally Published: December 12, 2018 8:48 p.m.
Updated as of Friday, December 14, 2018 1:36 PM
The State of Arizona offers people a unique chance to support their favorite charities through a dollar-for-dollar charitable giving tax credit program – $400 an individual and $800 for a couple.
Document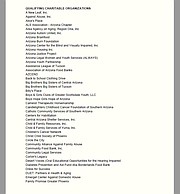 Still, the program is simple, yet somewhat misunderstood.
In the Prescott area, there are about 30 non-profit organizations eligible to benefit from this program that requires donors to write the checks before the end of the calendar year or before tax time. The taxpayer in turn gets a same-amount "credit" on their tax return.
For a detailed list of organizations that are "qualifying charitable organizations" through the state, according to the Secretary of State's office, visit this article on dCourier.com for a download or go to secc.az.gov/2018-qualifying-charitable-organizations.
Similar credits are also eligible for the school of a donor's choice – public or private – and for veteran services. To be sure the non-profit you want to donate to is eligible, contact the group or your tax accountant.
West Yavapai Guidance Clinic is one of the nonprofits on the state's list. Each year it works to raise money through the tax credit program.
West Yavapai Communication Officer Laura Norman said, "This is a unique opportunity for people in Arizona to designate their tax dollars toward charities they love."
Yavapai Big Brothers Big Sisters also is on the list. BBBS officials see the tax credit program in a similar way – allowing people to invest their tax dollars the way they wish rather than as the state might choose.
The maximum tax credit donation amounts are:
• For qualified charitable organizations: $400 for a single taxpayer and $800 for taxpayers filing a joint tax return.
• For public schools: $200 for a single taxpayer and $400 for taxpayers filing a joint tax return.
• For private schools: $545 for a single taxpayer and $1,090 for taxpayers filing a joint tax return, or $542 and $1,083 depending on which form is filled out.
According to the state tax website: "Effective in 2016, credit eligible contributions made on or before the 15th day of the fourth month following the close of the taxable year may be applied to either the current or the preceding taxable year and are considered to have been made on the last day of that taxable year."
For more information, visit azdor.gov/tax-credits.
More like this story
SUBMIT FEEDBACK
Click Below to:
This Week's Circulars
To view money-saving ads...