Prescott grapplers finish 1-1 in section meet
Prep Wrestling
Originally Published: December 12, 2018 10:59 p.m.
PRESCOTT — The Badgers wrestling team put together a solid performance Wednesday night in Prescott, where they took on Coconino and Thunderbird in a Section IV dual meet.
In their two matches, the Badgers were able to beat the Panthers 39-36, while falling to the Chiefs 54-27. The Chiefs defeated the Panthers, as well, 39-33, so the Badgers finished 1-1, Coconino finished 0-2, and the Chiefs finished with 2-0 overall records.
In the first set of matches between the Badgers and Panthers, the Badgers found success early and often with their ability to turn takedowns into pins. In the first dual, 132-pound Colton Tomitz, 145-pound Andrew Salberg, 172-pound Robert Hussen and 220-pound Jadon Rummage, all earned victories via pin.
Photo Gallery
Prescott Vs Coconino Wrestling 121218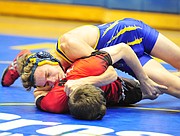 In their second match, the Badgers performed well once again, in the matches they were able to compete in that is. Tomitz and Hussen were both able to pick up there second pins on the night, while 128-pound Lincoln Eby and 195-pound Nate Golisoski were able to secure pins as well.
In the most exciting match of the night, Dorth took on Prescott senior 145-pounder Andrew Salberg in a back-and-forth affair. Dorth found success early with his ability to earn a take down and take Salbergs back but Salberg was able to rally nearly pinning Dorth twice in the second period. As we headed down the stretch, in a fairly even matchup, Dorth was finally able to trip Salberg ending up on top and was able to complete the pin.
The Badgers won five out of seven matches against the Chiefs, but it was the matches they gave away due to not having people to compete in certain weight classes that cost them an opportunity to win. The Badgers were unable to supply wrestlers for seven weight classes, which resulted in 42 points for the Chiefs, ultimately leading to their 54-27 victory.
For the Badgers, Tomitz led the way and he sees his team starting to gel.
"It's rough because we're giving away half the team but individually we're all pushing to be better than we were the last week," Tomitz said. "We're really coming together as a team; we're a small team so were just all trying to push each other to do better."
UP NEXT
Prescott take part in the fifth annual Veteran's Memorial Wrestling Invitational on Friday, Dec. 14, which action slated to start at 8 a.m.
Coconino will be in action next on the road at Lee Williams, where they will compete in a dual meet with Chino Valley and Lee Williams on Wednesday, Dec. 19, at 3 p.m.
Chris Whitcomb is a sports reporter for The Daily Courier. Follow him on Twitter at @AZChris32. Email him at cwhitcomb@prescottaz.com, or call 928-445-3333, ext. 2031.
More like this story
SUBMIT FEEDBACK
Click Below to: