Should alleged fentanyl dealers face higher bond amounts?
How bond amounts are determined

By
Max Efrein
|
mefrein
Originally Published: December 11, 2018 10:27 p.m.
In a recent arrest of two alleged fentanyl dealers in Prescott Valley, both suspects were held in custody on a $3,000 bond each.
Both were young men, 19 and 20 years old. They were caught driving in the area with 23.5 pills containing fentanyl, a schedule 2 drug. One had some prior felony history in Arizona, while the other did not. Both were booked on charges of transportation and/or sale of narcotic drugs, a class 2 felony, and possession/use of drug paraphernalia, a class 6 felony.
Given how deadly fentanyl is and how serious local law enforcement are about ridding the substance from the community, did these two men deserve a higher bond amount? To address this question, one must understand how bond amounts are determined.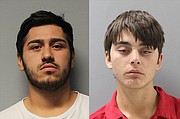 First, to clear up a common misconception: bond and bail are not synonymous.

One can think of bail as the equivalent of release. It's a decision a judge must make. Those who are eligible for bail are eligible to be released from custody under some conditions. Those conditions can include a bond amount.
"For the most part, everyone is eligible for bail except for very limited situations," said Yavapai County Superior Court Judge Michael Bluff. Those exceptions include charges where the death penalty is possible; when a second felony is committed by someone who is already on release for a felony; and when someone poses too great a danger to the community or a victim.

If someone is eligible for bail, then there are a number of release conditions a judge can impose. This can range from a defendant simply signing a piece of paper promising to show up for a scheduled court hearing and not committing a crime in the meantime, to paying a cash bond in full and only receiving that money back if compliant with all release conditions.

"As judges, we're supposed to start with the least restrictive method of release and then move up the ladder from there," Bluff said.
NOT ABOUT MONEY
In recent years, Arizona's court system has worked on moving away from holding people in jail pretrial using money bonds.
"Money alone is not a good predictor of the things we care about when we make a release decision," Bluff said. "What we care about are really two things: Are they going to show up for the next court date and are they going to commit another crime or pose some danger to the community."
When someone is arrested on charges, they are presumed to be innocent. That constitutional right is restricted when their release is tied to money, Bluff said.
"To hold people in jail simply on a money bond that they might not be able to pay is not fair," Bluff said. "It's not right, because rich people can get out no matter how dangerous they are. And poor people – no matter how low you set the bond – they can't get out, and they can be a person who doesn't pose a danger to anybody and would show up to every single court date."
INFLUENCERS
Several factors can play a role in a judge's bail/bond decision.
A significant one is a pretrial tool called a public safety assessment (PSA). Yavapai County began conducting PSAs for every person arrested in the county about two years ago.
The risk assessment tool, administered by the Yavapai County Adult Probation Department, helps identify how likely it is a person will reoffend or not appear for a court hearing. Defendants are each assigned a score from 1 (low risk) to 6 (high risk) based on a number of criteria, such as the type of crime committed, a person's general criminal history and a person's age.
"It's very reliable and accurate," said John Morris, chief officer for adult probation in Yavapai County.
However, it doesn't take precedence over the authority or discretion of a judge.
"The ultimate decision to release or detain rests with the judge," Morris said. "This just gives the judge more information from which to make those decisions."
Another influencing factor judges take into account when making bail/bond decisions are prosecutors' input.
In rare instances, the Yavapai County Attorney's Office will have a prosecutor attend a defendant's initial appearance to encourage that a bond amount be imposed and/or increased.
"We typically don't (attend) unless it's a severe victim case," said Dennis McGrane, the chief deputy in the Yavapai County Attorney's Office. "We just don't have the bodies to go to every initial appearance, because they're held throughout the county at different times of the day."
If they were to appear or file a motion requesting someone – such as a suspected fentanyl dealer – be subject to a high bond amount or held without bail, then a bond hearing would have to take place in front of a superior court judge.
"We can have a hearing on that and I'll listen to the county attorney talk about how this person is a dealer and a danger to the community, and we'll listen to the defense attorney tell me just the opposite," Bluff said.
All a judge can do at that point is make a determination of how likely it is the defendant committed the crime and if further restriction should be placed on that person's freedom.
"There's a perception that we're just letting people out of jail that [law enforcement] spend a lot of time putting in jail, and those aren't really the facts, but it can sometimes look that way," he said. "I think law enforcement, at least in Yavapai County, understands that we all have our jobs to do and we just try to make the best decisions we can."
StopFentanylNow
More like this story
SUBMIT FEEDBACK
Click Below to: