Families rave about opportunity offered through Help Portrait Prescott

Originally Published: December 10, 2018 7:35 p.m.
It was no small thing for Prescott Valley resident Mary Dutra to gather her family together for their first ever professional portrait, thanks to the launch of Help Portrait Prescott.
First she had to address some prickly family dynamics and emotions.
To make it a true family portrait, Dutra felt called to invite the father of her two adult children; the couple divorced a decade ago. Her former husband, Sid Miller, relocated to Prescott from Yuma this year.
Then she needed to coordinate with the schedules for her son, Jeffrey, and daughter, Christina Miller-Montero; arrange rides to the photo shoot at Mile High Middle School and then convince four-year-granddaughter, Jayden, to dress up and stand in front of a camera with bright lights and backdrop.
At 10:30 a.m. Saturday morning, Dutra and her daughter were not sure they could pull it off.
"It was the power of God that we were able to be here today," said Christina about an hour later as she twirled in a makeshift salon chair where volunteers from Strada Salon in Prescott styled her hair and artfully applied makeup suitable to her attire that included a cream-colored eyelet sweater. "It's such a blessing."
Help Portrait Prescott is a new local chapter of a national organization that offers to individuals and families who could not otherwise afford it a posed, professional portrait in a studio environment. Each individual is given an 8 x 10 framed portrait; families receive an 11 x 14 frame. All are given digital shots and coupons to make additional low-cost prints.
New to Prescott a year ago, Scott Bideau is the founder of the once-a-year portrait sitting for those connected to area non-profit charities, veteran organizations, nursing homes and area churches. He has been involved with the project for several years, for the last few years in Steamboat Springs, Colorado.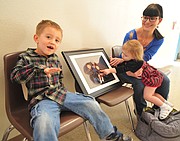 Over the course of the last few months, Bideau obtained the volunteer services of two professional photographers, Matt Halvorson and Lauren Ristow in Prescott, as well as photographer Kyle Ammons who edited each portrait. Strada Salon owner Fortune Brandel and three of her stylists and makeup artists donated their time; with a few other volunteers coming from local churches, schools and Bideau's own family. One father and daughter traveled from Tucson to help coordinate the session that benefitted 74 guests, 11 individuals and 20 families.
Even Santa paid a visit – and there was free pizza and doughnuts.
For his first event, Bideau opted to keep the numbers small to be certain everyone was treated to a personal, memorable session. He expects he will be able to double the numbers next year.
"We're just here to give back and love on some people by making them look and feel better," Brandel said of their willingness to donate time on a holiday Saturday.
Saturday's session went from 9 a.m. to 3 p.m.
"It's just such a blessing that we can give some of our talent," Brandel said.
Photographers Ristow and Halvorson concurred. Ristow said she was particularly touched to hear the guests' stories.
"It's been super sweet," she said.
Tucson High School student Cecilia Leahy, 17, and her father, Tim, traveled more than three hours to donate their time to what they saw as a worthy cause.
"It's really, really cool," said Leahy as she checked people in for their appointments. "It's nice to help people, especially around the holidays."
Dutra is delighted her family was able to be one of Help Portrait's latest beneficiaries. The organization has provided some 400,000 portraits worldwide.
She said the final portrait – and the digital options – are a legacy to her children and granddaughter.
"OHHHH!!!" Dutra gasped as volunteers unveiled her finished portrait. "I can't believe how beautiful it is."
Single mother Maleshia Peppin counts her portrait as a Christmas present to herself – she has never before been able to afford a family photograph with her three children, Aiden, 12, Gunner, 8, and Delaney, 5.
The typical cost for such a session can range from $150 up, not including the price of framed portraits.
For this session, Peppin's boys dressed in matching maroon-and-gold flannel shirts. Her tomboy daughter sported a sparkly gold tulle dress. Peppin wore black pants with a matching maroon-and-gold sweater.
Like Dutra, Peppin learned about Help Portrait Prescott from the Yavapai Food Bank.
"It's awesome," Peppin declared. "This has been a particularly rough year, and so it's really nice to have one picture of us all smiling."
Follow Nanci Hutson on Twitter @HutsonNanci. Reach her at 928-445-3333 ext. 2041.
Related Stories
---
Sign up for our e-News Alerts
SUBMIT FEEDBACK
Click Below to: