Music brings community together at Acker Night

Originally Published: December 8, 2018 11:05 p.m.
Prescott came together Friday night, Dec. 7, for a night of music and Christmas cheer with the 30th annual Acker Musical Showcase.
There were about 145 groups and more than 600 performers in about 140 businesses.
It was Lisa Kruger's first time attending the event, having recently moved to the area. Kruger said she was enjoying it.
Photo Gallery
30th Annual Acker Musical Showcase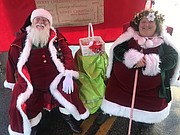 "There's a lot of talented people," she said.
At the same time, it was Christopher Tenney's first Acker Musical Showcase as a performer. Tenney was taking part as one-fifth of the Yavapai College Brass Quintet, a group that has performed in the event before. The group was located in Armadilla Wax Works.
The quintet had been preparing since its last show in August, and in the minutes leading up to the performance, Tenney said he was looking forward to the camaraderie among the group. It's fun playing with them, he said.

In Lost in Sports & Antiques was Fred Leonard, who said Friday night was his sixth Acker Musical Showcase. Leonard said he enjoys performing because of the cause and the community.
"It supports all the kids and music lessons," he said. "It's a fun community event, everybody turns out. It's kind of unique in that respect."
Every location had tip bags in which people could donate, and 100 percent of the proceeds went to the J. S. Acker Music Park Association for scholarships to dedicated performing arts students in the Prescott area. Last year, the organization was able to provide 65 private scholarships for students to continue studying music and $5,000 to each school district's music program, said J.S. Acker Music Park Association President Scott Currey.
While Road One South Blues Band went into semi-retirement following last year's Acker Musical Showcase, it was back by popular demand and was showcased in the lobby of Country Bank. All of the guys in the band were excited to be back at it, and it feels good to have been asked back, said drummer Dwight D'Evelyn.
"We're glad to be here," D'Evelyn said. "I think we'd miss it if we didn't do it."
Kim Blanchard, who was born and raised in Prescott and has attended the Acker Musical Showcase before, said she was having a good time. She was enjoying the feeling of community the most because the togetherness that's in Prescott can't be found everywhere, Blanchard said.
"We just spent the last 10 years in Texas," she said. "What we have here, they don't have there."
More like this story
SUBMIT FEEDBACK
Click Below to: