Grant aids Chino Valley archery team, robotics club

Originally Published: December 8, 2018 9:14 p.m.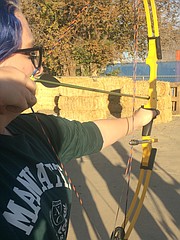 It feels a lot better to be on the Chino Valley High School archery team this year compared to last year, team member Naomi Rice said.
"I think we're doing a lot better than last year because of all the stuff we've gotten," Rice said.
Last year was the first year there was an archery team at Chino Valley High School. Back then, the squad had only 11 kids when 12 were needed to make a team, and they had to borrow all of their equipment from Heritage Middle School and Del Rio Elementary School, said coach Aaron Hulburd.
This year though, thanks to a grant from the Jewish Community Foundation of Greater Prescott for $9,823, the team is fully equipped, Hulburd said. They have enough bows for all of the kids and a storage shed, he said.
"It's really helped us provide for all these kids," Hulburd said. "Without the Jewish Foundation, we really wouldn't be where we are today."

It all happened because Hulburd reached out to the foundation and asked if it was possible to provide some bows and arrows, said Jewish Community Foundation of Greater Prescott Executive Director Christine Resnick. The foundation was able to give everything that he had asked for, she said.
The archery team caught the organization's eye because of the void it had filled as well as how it benefitted the kids coming up from the middle school program, allowing them to continue, Resnick said. Further, it was striking that the team was a group of really inclusive kids, she said.
"It's just a really dynamic sport in that anyone can do it," Resnick said. "You have to have a lot of commitment, a lot of concentration. There's a lot of mental gain to it."
Hulburd and his wife, assistant coach Edie Hulburd, have their hearts in the program, and that's easily seen, Resnick said.
Looking forward, Hulburd said he wants to continue to build the program and provide the opportunity for the kids at the high school level to compete locally, statewide and nationally.
The Chino Valley High School archery team was not the only recipient of a grant from the Jewish Community Foundation of Greater Prescott, though. The school's robotics club received $3,800 that went to upgrades for the VEX Robotics systems the club uses. The systems that were replaced were about 5 years old, which is behind when it comes to robotics and technology, said Chino Valley High School teacher Steven Booher. The new systems should last another five years, he said.

The systems are more modern and include a coding studio, which allows students to program in the language that will lead them into modern careers, he said.
Booher said he is grateful for the support of the foundation and the grant.
"We wouldn't have been able to upgrade without that," he said.

More like this story
SUBMIT FEEDBACK
Click Below to: