Now Showing: Week of Dec. 7
Originally Published: December 6, 2018 5:17 p.m.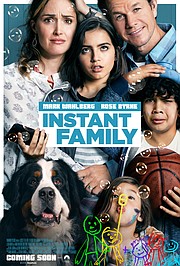 Instant Family - When Pete and Ellie decide to start a family, they stumble into the world of foster care adoption. They hope to take in one small child, but when they meet three siblings, including a rebellious 15-year-old girl, they find themselves speeding from zero to three kids overnight. Now, Pete and Ellie must try to learn the ropes of instant parenthood in the hope of becoming a family. PG-13 — drama, comedy
The Grinch - The Grinch and his loyal dog, Max, live a solitary existence inside a cave on Mount Crumpet. His main source of aggravation comes during Christmastime when his neighbors in Whoville celebrate the holidays with a bang. When the Whos decide to make Christmas bigger and brighter, the disgruntled Grinch realizes there is one way to gain peace and quiet. With help from Max, the green grump hatches a scheme to pose as Santa Claus, steal Christmas and silence the Whos' holiday cheer once and for all. PG — fantasy, musical
Green Book - Dr. Don Shirley is a world-class African-American pianist who's about to embark on a concert tour in the Deep South in 1962. In need of a driver and protection, Shirley recruits Tony Lip, a tough-talking bouncer from an Italian-American neighborhood in the Bronx. Despite their differences, the two men soon develop an unexpected bond while confronting racism and danger in an era of segregation. PG-13 — drama, comedy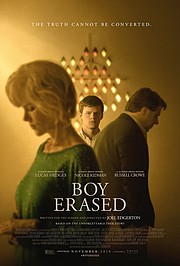 Boy Erased - Jared Eamons, the son of a small-town Baptist pastor, must overcome the fallout after being outed as gay to his parents. His father and mother struggle to reconcile their love for their son with their beliefs. Fearing a loss of family, friends and community, Jared is pressured into attending a conversion therapy program. While there, Jared comes into conflict with its leader and begins his journey to finding his own voice and accepting his true self. R — drama, coming-of-age fiction
More like this story
SUBMIT FEEDBACK
Click Below to:
This Week's Circulars
To view money-saving ads...