First-hand account of Pearl Harbor attack
Some Prescott families honor national Pearl Harbor Remembrance Day as more than history

By
Nanci Hutson
|
HutsonNanci
Originally Published: December 6, 2018 9:10 p.m.
Pearl Harbor, Hawaii, Dec. 7, 1941: President Franklin Roosevelt declares it the "date which will live in infamy."
In 1994, President Bill Clinton declares Dec. 7 the national Pearl Harbor Remembrance Day, one dedicated to remembering the sacrifices of some 2,400 Americans killed in the Japanese surprise attack on Pearl Harbor that led to the nation's official entry into World War II. More than 1,100 of those killed were assigned to the USS Arizona that rests beneath the memorial site.
In 2018, in Prescott, 84-year-old Bill Williamson will mark the date as he has for most of his life — remembering hiding under his bed as bombs dropped and chaos reigned on the island. His father, Bill Sr., was a United States Navy warrant officer who was home and called to duty.
One of his lasting memories is of Christmas Day, 18 days after the attack. His mother received a call at 10 a.m. and told that in four hours she and her three children needed to be at the docks prepared to evacuate. The family was allowed one suitcase each. They were not told where they were headed, but ended up in San Francisco.
Upon departing the ship, Williamson said the family was surprised, and delighted, to be greeted by their father who arrived on another ship.
Two years ago, Williamson and some other local Sons and Daughters of Pearl Harbor Survivors attended the 75th anniversary of the attack in Pearl Harbor. This week, 15 gathered at the Golden Corral Restaurant to reminisce and reflect on the attack and its lasting impact on their lives.
Williamson has transcribed his memories, and those of others, as a living reflection of a day that forever changed the world.
At the local VA Hospital, one of Prescott's "Hometown Heroes" in this year's Veterans Day Parade, 84-year-old Benny Enriquez, lived in Pearl Harbor at the time of the attack. Enriquez is a retired United States Army master sergeant who earned two Purple Hearts in his service in both Korea and two tours in Vietnam.
Then a 7-year-old, only child, Enriquez said he was home with both parents when the attack occurred.
The now VA Community Living Center patient shared with Public Affairs Officer Mary Dillinger that he and his parents were "scared." His parents shielded all the windows, leaving just a crack to see what was going on outside their house.
In the aftermath of it all, Enriquez recalled rescuing injured neighbors and helping rebuild some of their homes. Schools were closed, and every remaining family was forced to ration food and other household goods. Enriquez remembers most being wary of additional attacks.
"He was lucky. His home was not damaged. But many others were not so lucky," Enriquez reported to Dillinger.
For Arizonans, Pearl Harbor Remembrance Day is quite significant because so many of the crew of the USS Arizona battleship were natives of the state and so this day brings back those losses "very, very intensely," said Prescott veteran historian Patsy Ray.
Though she was a toddler at the time of the Pearl Harbor attack, the octogenarian said Pearl Harbor was a pivotal moment, not only because it prompted America's declaration of war but it was when America emerged as a national power.
"We had been participating behind the scenes with the war in Europe, but we were not active participants," Ray said. "And Pearl Harbor ended that."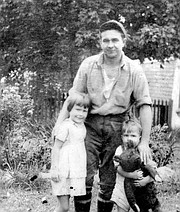 Beyond sending America's military into combat, Pearl Harbor also was the catalyst for women entering the workforce, Ray said. To free up men for war, women became truck drivers, nurses, teachers, and workers in manufacturing companies, she said.
One-time homemakers became recognized "as a force unto themselves," Ray said.
The attacks on Pearl Harbor galvanized America in a way history did not see again until the 9/11 terrorist attacks some six decades later, she noted.
Even then, Ray suggests the reverberating impact of 9/11 did not have the "national impact that Pearl Harbor did," complete with rations and cultural shifts that changed the way America perceived itself.
Americans willingly rationed everything they owned to support the war effort, and afterward supported veterans with the GI Bill that enabled them to earn college degrees and loans to buy homes, Ray said. Because of Pearl Harbor, America led the world in nuclear warfare, she said.
For Williamson, Pearl Harbor Remembrance Day is a time to reflect, honor and be proud of those who gave it all.
"Most of all, I don't want (citizens) to forget this day," Williamson said. "It's a sacred day to the people who were there."
MORE:
NAME OF OUR ASSOCIATION: "THE SONS AND DAUGHTERS OF PEARL HARBOR SURVIVORS".

We now are recruiting members of the general public who would like to help preserve the memories of The Pearl Harbor Attack. They may become Associate Members in the National Association and receive a nice certificate to frame.

MY RECOLLECTIONS: PHIL RIDDLE
My Father was a Radioman First Class assigned to the Naval Radio Station. However, he had been temporarily sent sent to Palmyra Island to assist in establishing a radar station.. That left Mom (8 months pregnant) and myself (3 years 10 months of age) alone in Navy Housing on the base at Pearl Harbor.
At the time of the attack, we were up stairs in my bed room where my mother had almost finished getting me dressed. We, of course, had all the commotion but Mom had decided it was only a realistic drill. I was sitting on my bed waiting for my shoes and socks when a bullet came through the roof and struck and broke my leg. It was later found to be a 50 caliber round which was only used in American weapons. I was treated at the dispensary near the ship yard. We were evacuated to the west coast on Christmas Day aboard the SS Luriline.
Phil Riddle
MY HUSBANDS RECOLLECTIONS: CONNIE LYON
William Calvin Lyon Pearl Harbor Survivor
Bill was born in Oklahoma and moved with the family to Buckeye Arizona when he was about 6 years old.
He turned 17 and joined the Navy. He requested the Arizona however, was assigned to the Detroit.

He was 18 years old November 2nd and stationed and reassigned to Submarine Base in Hawaii.
Sunday morning December 7, 1941 he got up, dressed in his uniform, and went to mess hall for breakfast.

He was happy to fill his plate with ham and eggs etc, as he was young and enjoyed the Navy food. He was 6 ft 2 ins and 130lbs.
They called him Highpockets.
The sirens and bombing began and thinking, like every else, it was a drill, he put his plate of food up on a shelf, but never returned to eat it.

He heard and saw the Arizona get bombed and could , yes, see the Japanese pilots and crew in their planes.
He and another sailor ran into the nearest building and did not realize this was a building filled with ammunition.

The other sailor said, I need to get to my ship! Bill said then go. The sailor said , I don't have a hat.
Bill pulled off his hat and gave it to the other sailor and he said the young man straighten it and ran out of the building and Bill never saw him again.

He came out to see the Arizona and how bad it was.
They put him on guard in front of a building where the officers were gathering and as he saw a General almost running up the stairs, he thought , should I stop him but decided not to. He was there all day until he talked someone into taking his place. He knew could not leave his post.

He served his 4 years and never went to Submarines and finished his time out on the Detroit , with much time in the Allutions.
More like this story
SUBMIT FEEDBACK
Click Below to: