From broken bones to bronze sculptures
Phippen Museum presents former bull rider and sculptor Chris Navarro Saturday

Originally Published: December 6, 2018 7:40 p.m.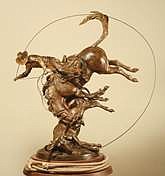 In the rodeo world, it is not if, but rather when and how bad, bull riders will get hurt. For Chris Navarro, it was often and pretty bad before he decided to change careers and work in bronze.
The Phippen Museum will display an extensive collection of Navarro's artwork in an exhibition and sale, Embrace the Struggle: The Art of Chris Navarro, through April 21.
A special visit by Navarro takes place at 1 p.m. Saturday, Dec. 8, when he will provide an in-depth look at his personal journey from tenacious bull rider to determined, award-winning bronze sculptor. The presentation is free for museum members and included in the price of general admission for guests.  
By the time Navarro turned 21, he had suffered a lengthy list of rodeo injuries: five concussions, dislocated shoulders (both), 12 broken ribs and a collapsed lung, and a broken left thumb, right hand and left shoulder blade. His front teeth were also knocked out.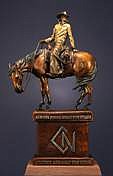 But he developed a sense of fearlessness and tenacity that has served him well as a bronze sculptor, and has amassed a body of work from small to monumental pieces.
Navarro lists family, horses, rodeo and art as the driving passions of his life. "When you love what you are doing, the real reward is in the experience of doing it," he said.
The comprehensive exhibition includes more than 30 small scale works and many large photographs of his bronze monuments that explore his unflinching dedication to working hard, following the cowboy code and "embracing the struggle."
The Phippen Museum is located at 4701 N. Highway 89, east at the roundabout. For more information, call 928-778-1385, or visit www.phippenartmuseum.org.
More like this story
SUBMIT FEEDBACK
Click Below to: