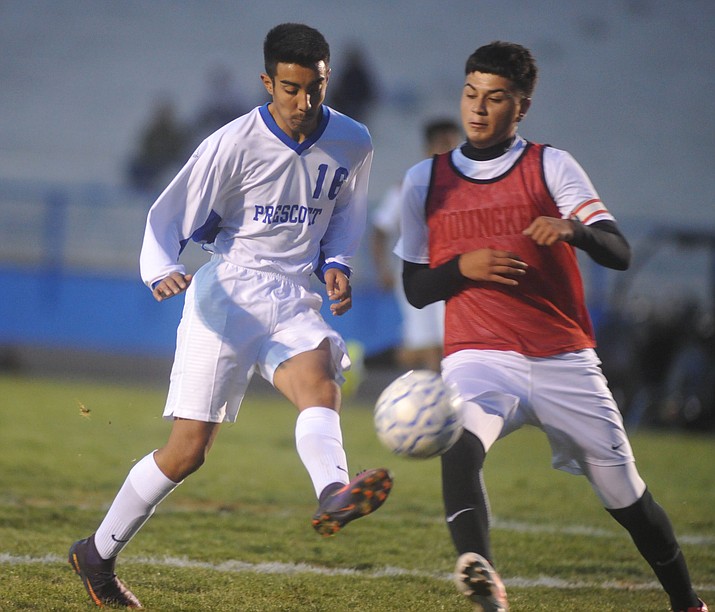 Originally Published: December 6, 2018 9:15 p.m.
PRESCOTT — The Prescott boys soccer team took the field at home for the first time this season to host the visiting Poston Butte Broncos. It was a damp and cool night at Bill Shepard Field, but the Badgers were able to find a rhythm in the second half and put the Broncos away 7-2.
The score wasn't close, but it wasn't always pretty for the Badgers, who trailed 1-0 just 2 minutes into the match. Giving up the early goal seemed to ignite the Badgers a little bit or at least it ignited mid-fielder Bryant Chivara. Chivara was able to get the Badgers back in the game by scoring two goals, one in the 7th minute and one in the 9th, to put them in front 2-1.
The two teams went back and forth throughout the first half, ending with the Badgers up 3-2, but coach wasn't happy with their performance and noted why the second half was different.
"I lit the fire under them (in the second half)," Prescott head coach Phil Reid said. "We weren't playing to the game plan so it was time for them to settle down and play a little more disciplined and play the way we intended to play, and that's what happened in the second half."
In the second half, the Badgers took their coach's speech and dominated possession and put continuous pressure on the defense of the Broncos, leading to numerous scoring chances and four more goals. In the half, four different badgers scored, with Edgar Martinez, Claudio Orozco, Will Ramsay and Chivara finding the back of the net. Chivara found the net for the third time in the match, giving him a hat trick he wasn't sure he was going to get.
"It felt really good," Chivara said. "I wasn't sure if it was going in or not because it was on my left foot and I was kind of stepping back a bit, but it went in and I'm happy about that."
Now six matches into their season the Badgers sit at 3-3. They are coming off a season last year that saw them have their first winning record in three seasons and coach Reid sees room for growth but he likes where his team is currently.
"(We're) looking good," Reid said. "I like the progress so far but it's only 2 games. Really the progress is slow and steady which is good, we're not regressing, so that's good."
UP NEXT
The Badgers will travel to play Seton Catholic Prep on Wednesday, Dec. 12, at 6 p.m.
Chris Whitcomb is a sports reporter for The Daily Courier. Follow him on Twitter at @AZChris32. Email him at cwhitcomb@prescottaz.com, or call 928-445-3333, ext. 2031.
More like this story