Visit a Christmas village… in a garage
Gets people in the spirit of Christmas, architect says

Originally Published: December 4, 2018 8:29 p.m.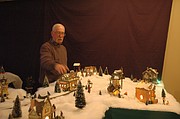 Art Cederholm is the architect of an entire Christmas village that he and his wife, Darlene Cederholm, put in their garage.
It's their fifth Christmas in Chino Valley and they've been setting it up every year they've lived in the area. People can go and see the village too. Last year, more than 100 people came by including some people from outside Chino Valley, he said. Also, a lot of times people told them they were going to bring their relatives once they arrived in town, Art Cederholm said.
"Quite a few people were actually here more than once which made it nice," he said. "They brought relatives that had come in for Christmas.
New this year, Art Cederholm said, is the addition of a table, which gave them more room in the middle to add more buildings. The train station has also been moved from where it was last year to make it look like it's delivering skiers, he said.
The two of them started with just a few little pieces before putting it on public display in an arts center in Kansas. These days, it rests on multiple tables in their garage, is made up of a conglomeration of what they've collected over the years and has Bedford Falls from the film "It's a Wonderful Life" while the rest of it is a result of their imagination, Art Cederholm said. The first set they had isn't a part of this year's village because it's a little different in scale and structure, he said.
"This has a very specific look to it," Art Cederholm said. "Whereas that looks a little more make-believe almost."
Work to put the village up usually starts in the beginning of November, Art Cederholm said. Usually, he tries to get it up by Thanksgiving, but it took them a little bit longer to put it up this year with the addition of the table and his work schedule, he said.
Seeing the village can certainly get people into the spirit of Christmas, Art Cederholm said. Additionally, they have a list of things for the kids to find, Darlene Cederholm said.
"Gives them something to look for," she said. "Even the adults like to help find stuff too."
The village is open to the public at 1025 Heather Lane from 6 to 9 p.m. Thursdays through Saturdays.
SUBMIT FEEDBACK
Click Below to: