Government to shutter its doors Dec. 5 to honor George H.W. Bush
US Postal Service, most federal entities will close to observe 'National Day of Mourning'

By
Max Efrein
|
mefrein
Originally Published: December 4, 2018 8:34 p.m.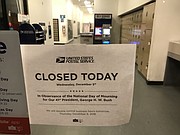 The U.S. Postal Service (USPS) and most other federal entities will be closed Wednesday, Dec. 5, in observance of the National Day of Mourning for George H.W. Bush, who died Friday, Nov. 30, at age 94.
This is in accordance with an executive order issued by President Donald Trump Dec. 1, announcing that all federal agencies and offices not considered necessary for national security, defense or other public need would close this day to honor Bush's memory.
Included in the temporary closure are the Prescott National Forest, the New York Stock Exchange and the Nasdaq.
In its closure announcement, USPS said regular mail deliveries, retail services and administrative office activity will freeze for the day.
It will, however, "provide limited package delivery services… to ensure that our network remains fluid and we do not experience any impacts to our package delivery operations that might negatively affect our customers or business partners during the remainder of our busy holiday season," as stated in the announcement.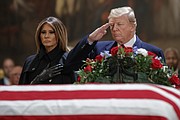 Such closures are the general custom when a former president dies, as sitting presidents have issued executive orders closing federal agencies to honor all seven presidents that died within the last 50 years.
One of the few government entities remaining open is the U.S. Department of Veteran Affairs
"We're like the only ones that will still operate normal hours and provide normal services," said Northern Arizona Veteran Affairs Health Care System spokesperson Mary Dillinger. "Our secretary of the VA is the one who said the VA will operate. Yes, the president did make this executive order, but we still need to function."
Trump also directed that American flags be flown at half-staff for 30 days. This follows guidelines outlined by President Dwight D. Eisenhower in a 1954 proclamation.
Here are all of the guidelines about how long to leave flags at half-staff, set out in Eisenhower's proclamation.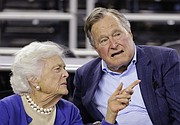 President or former president's death: 30 days
Vice president, the chief justice or a retired chief justice of the United States Supreme Court, or the speaker of the House of Representatives: 10 days
Associate justice of the Supreme Court, a member of the Cabinet, a former vice president, the president pro tempore of the Senate, the majority leader of the Senate, the minority leader of the Senate, the majority leader of the House of Representatives, or the minority leader of the House of Representatives: Death until interment
United States senator, representative, territorial delegate, or the resident commissioner from the Commonwealth of Puerto Rico: On the day of death and the day after
The governor of a state, territory or possession: Day of death until interment
Follow Max Efrein on Twitter @mefrein, email him at mefrein@prescottaz.com or call him at 928-445-3333 ext. 1105.
See Related Videos
More like this story
SUBMIT FEEDBACK
Click Below to: