Bradshaw Mountain routs Cortez 4-0, moves to 1-1
Prep Girls Soccer
By
Doug Cook
|
dougout_dc
Originally Published: December 4, 2018 11:16 p.m.
PRESCOTT VALLEY — The Bradshaw Mountain girls soccer team had a rough start to the 2018-19 season, but the Bears bounced back well in their home opener Tuesday, Dec. 4, at Bob Pavlich Field.
Under the lights in brisk 40-degree temperatures, Bradshaw Mountain sophomore midfielder Hailey Denman scored two goals and added an assist, as the Bears cruised to a 4-0 victory over Cortez.
Photo Gallery
Bradshaw Mountain vs Cortez Girls Soccer 120418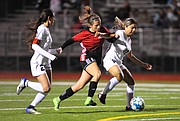 A week after succumbing 8-0 to Arcadia Nov. 27 in Phoenix, Bradshaw Mountain capitalized on an inexperienced Colts team.
"Against Arcadia, we knew we had to get our passing better, and we really worked on that in practice," Denman said. "And we came out and really showed what we could do. We were bouncing the ball around, playing really good one-twos [passes from one player to another beyond and/or between defenders], and that really benefitted us.
"For the next game, we can really drive that home."
The Bears carried a 3-0 lead into halftime, although they missed more than a few opportunities to score from close range in both halves.
"We need to train on finishing, and getting the ball off our foot quicker," Bradshaw Mountain coach John Sterling said. "We still don't really have a set lineup. But I was pleased with our performance. We worked hard and worked well together. I'm proud of a very young team right now."
Denman booted in Bradshaw Mountain's first goal on a 10- to 15-yard shot from the middle of the field some 13 minutes into the first half.
"She moves the ball very, very well," Bears junior co-captain Sarah Hacker said of Denman's play. "She definitely could use other players more, but she doesn't need to. She's a monster."
Cortez held its ground for the next 20 minutes, until freshman Marlin Gonzalez scored on an assist from Alexis Clynes. Only a few minutes later, the Bears put the match out of reach at 3-0 when Denman found freshman Emily Sotelo for a chip shot in the box.
"We got beat on the [defensive] back line," Colts coach Antonio Vazquez said. "We overcommitted, dropped in a little bit too deep – didn't see ball and player, and we got caught. They dropped that ball back in front of the goal, and we got beat there."
The Colts cleaned up their defense in the second half, despite surrendering a second goal from Denman 16-1/2 minutes into the final period on a shot from short range.
"They attack really well," Vazquez said of the Bears. "They knew exactly what they wanted to do, and they took advantage of us packing it in on defense. And they outmanned us a little bit."
Leading 4-0 in the final 15 minutes, Bradshaw Mountain's defense stood firm and held on for the shutout.
"It's definitely a rebuilding season for us, and we're just helping each other realize how to play soccer as a team instead of individuals," Hacker said. "We're trying to keep positivity up."
UP NEXT
Bradshaw Mountain visits Moon Valley (1-1 record) at 6 p.m. Thursday, Dec. 6, in Phoenix.
Cortez plays host to St. Mary's (0-0) at 6 p.m. Dec. 6 in Phoenix.
Doug Cook is a reporter for The Daily Courier. Follow him on Twitter at @dougout_dc. Email him at dcook@prescottaz.com or call 928-445-3333, ext. 2039.
More like this story
SUBMIT FEEDBACK
Click Below to: