'100-year water supply' - Is there really enough to serve 16,000 more homes?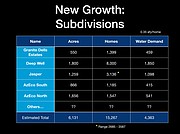 The picture Gary Beverly painted at the Citizen Water Advocacy Group meeting Nov. 10 at the Granite Peak Unitarian Universalist Church could be worse, he said.
Because of inconsistent and missing data, his estimates on when Prescott and Prescott Valley will run out of legally available water are on the conservative side.
Bottom line, according to available historic and current information, Beverly figures Prescott's legal water supply will be able to sustain a maximum 74,468 residents through 2046. Using 1.8 percent annual growth rate, as projected by Central Yavapai Metropolitan Planning Organization (CYMPO) and the Arizona Department of Water Resources (ADWR), this will occur in less than 30 years. The city's General Plan estimates a population of 80,000 by that time.
In Prescott Valley, CYMPO estimates the town's population also will reach 80,000 by 2040. According to Beverly's calculations, legally available water will be able to serve only 67,708 residents by 2046.
"I was aiming for a conservative estimate of the date we would fully use all the legally available water," he said in a follow-up email. "A high growth rate will give a nearer date, a low growth rate creates a later date."
If the Big Chino Water Ranch becomes a viable source of water, legally available water may last until 2063 for a total population of 199,330, which includes Prescott, Prescott Valley and "extinguishment credits" (EC), which translates to another 7,599 people.
More than 100 people showed up to hear about water availability for developments that have plans for an additional 46,650 Prescott residents and 42,000 Prescott Valley residents.
Beverly, CWAG's president, presented a program that reviewed historical mandates from state legislators and lots of numbers. The entire program can be viewed on CWAG's website, cwagaz.org, under Video Archive.
HISTORIC WATER/SAFE YIELD
The 100-year water supply new subdivisions rely on comes from four sources: groundwater that has been grandfathered into calculations; renewable water; extinguished credits from former irrigation use; and imported water, such as what the Big Chino Water Ranch might provide.
ADWR established the Prescott Active Management Area (PrAMA) through the 1980 Groundwater Management Act. AMA's goal is to reach "safe yield" by 2025, but there is no assistance, no incentive and no plan in place to reach this target, Beverly said. "The chance of it happening is very small."
Safe yield means the amount of water pumped out of the ground is equal to the same amount that makes its way back into underground aquifers.
The idea of "safe yield" is a political construct myth with loopholes and exemptions, Beverly said. Oversight by ADWR is poor due to inadequate funding and lack of administration. The complexity of water issues in Arizona and ongoing litigation have led to destruction or degradation of rivers and springs throughout the state.
In fact, claims on Verde River water exceed by four to 10 times the available water supply, he said.
Water existing underneath property owners' land is not theirs, but rather belongs to a trust managed through the Groundwater Management Act.
GROUNDWATER OVERDRAFT
Since 1995, the level of water in Chino Valley wells has declined about 2 feet per year. In 1998, ADWR declared the Prescott AMA to be in overdraft. "You can see 'management' is not working very well," Beverly said.
ADWR activated the Assured Water Supply rights, which put a cap on groundwater pumping across all users. Existing users were grandfathered in, but new construction fell under the new regulations.
However, after the ADWR overdraft declaration, Prescott Valley objected. During the one-year delay before the town was overruled in 1999 — what Beverly called a "bureaucratic boondoggle" occurred. It allowed certain property owners and developers to sneak in under the wire — 32,000 preliminary plats were created and grandfathered in under the old rules.
That guaranteed 10,000 AFY for 100 years, or 1 million AF of groundwater that accounts for about half of the groundwater overdraft.
"It's like starting 13 miles behind the starting line of a marathon," Beverly said.
John Munderloh, Prescott Valley's Water Resource manager, objects to Beverly's statement that the town objected to ADWR's proposed overdraft declaration in 1998. It was Shamrock Water Company, a private water provider, Munderloh said. Prescott Valley purchased the water company in 1999.
As of 2012, the cumulative groundwater overdraft has reached nearly 275,000 AF, and the deficit continues to grow. "It's not a drought," Beverly said. "We have a trend going on here."
WATER PURCHASE IN PV
Currently, the state requires no reporting or regulation on water use created by lot splits or domestic/private wells. Beverly said families on exempt wells use no more water than those on a municipal water system.
Subdivisions in Prescott Valley and Yavapai County must prove they have a 100-year water supply, including physical, legal and financial availability of water, before ADWR will issue them a Certificate of Assured Water Supply. Once a developer has acquired a certificate, the town and county has no say in whether enough water exists for the number of future residents.
In 2007, the town sold 2,700 AFY of effluent at a public auction to Water Property Investors managed by Water Asset Management (WAM) for $67 million, which, according to Beverly, it used to finance the town's share of the Big Chino pipeline.
Munderloh states in a Nov. 26 email, "Prescott Valley received international acclaim for this innovative free market approach to water resource allocation and won a second-place award in London in 2008 for Water Deal of the Year."

WAM sells the recharge credits only to Prescott Valley subdivisions, and these credits are used to obtain the Certificate of Assured Water from ADWR. The cost is about $5,000 per home, plus whatever markup WAM might add, Beverly said. Munderloh said the cost per home has not yet been determined.
WATER IN PRESCOTT
In Prescott, the city makes the determination of assured water and issues the certificate. When new development seeks city water supplies, the city knows what is available either in a reservation, contract, or otherwise, said Leslie Graser, Prescott's Water Resource manager, in a Nov. 26 email.
Based on her research of council minutes, "The City chooses to have the ability to work directly with developers/property owners in the City of Prescott, and not have them stuck on trying to be approved for a Certificate of Assured Water Supply (by having to seek and extinguish irrigation grandfather rights, etc)."
Local communities have different reasons for choosing to have a Decision and Order of Assured Water Supply or have developers bring them a Certificate of AWS, she continued. "Either way, ADWR and ADRE (Arizona Department of Real Estate) both have statutes that they administer for water supplies to subdivisions."
Five new subdivisions in Prescott, Prescott Valley and Yavapai County will require 4,363 AFY for 15,267 homes on 6,131 acres. They include Granite Dells Estates, Deep Well, Jasper, and AzEco North and South.
CONSERVATION EFFORTS
If the total population of Prescott and Prescott Valley were to adopt water conservation practices that drop water use from 0.35 AFY per home to 0.17 AFY, available water would last until 2068, Beverly predicts.
These kinds of calculations have never been done by anyone, he said, and "quibbling over details won't change the overall conclusion that state water law permits generous growth exceeding cities' targets without the water ranch, and without water conservation."
The effects of overdraft already are occurring.
Gradual drying at the margins of the aquifer has been documented, he said. Small domestic wells are drying up in west Chino Valley and along Williamson Valley Road. He expects to see problems in Coyote Springs crop up next.
When a homeowner's well dries up, the property value drops by half. "People at the edges are going to get whacked. It's happening now," he said.
Asked how hopeful he feels, Beverly said the water situation not hopeless.
Asked how he can continue to beat his head against the wall, he said with a laugh, "You don't have any other choice."
More like this story
SUBMIT FEEDBACK
Click Below to:
This Week's Circulars
To view money-saving ads...