Powers: A Wheelchair Dog! And a law or two!

Originally Published: December 3, 2018 6:44 p.m.
Most of us have walked around the Courthouse Square a time or two or 100. You may have seen Thomas Gabaldon walking with his dog, Chica, in her wheelchair. Attempting to jump over a fence a year or so ago, she fell and crushed her spinal column.
For most dogs, that might have been the end, but not for Chica. Thomas dealt with her paralysis and began constructing a type of wheelchair so she could get around. Then, on visiting a pet-orientated thrift store, he found a relatively new wheelchair-type vehicle for Chica. She took to it very quickly and loved her new mobility.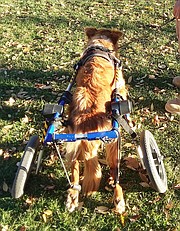 At home, she moves around on her own without the cart, dragging her back legs behind her. She is a spunky girl and enjoys interacting with other dogs and being independent. And she loves getting out for walks on the square.
However, it is a bit of a procedure. Thomas gets the cart out of the car and then lifts Chica out and sets her on top of the contraption. Her body is securely seated above the back wheels, the shafts connected to a harness around her back and chest, and then her back legs are fastened into hoops that keep her feet from dragging on the ground. After all of this, she is set to go.
What a lucky girl she is to have this dedication to her very special needs.
On another note, the one thing that has been most wonderful since I began writing this column is the input I have received from readers. Unfortunately, many of them have concerned dog attacks arising from problems with unleashed dogs or dogs not under the control of their people.
After repeatedly hearing these concerns, I visited with Shannon Gray, the Animal Control Supervisor at the Prescott Police Department. Gray or one of her staff is available and will respond to calls regarding loose animals, aggressive animals, and dogs not under the control of their person and causing problems. But also, the Animal Control office will check out any calls about animal abuse or neglect. It also responds to reports of animals that are injured.
Animal Control can be reached by calling the Prescott Police Department, 928-445-3131, and asking for Animal Control. For Prescott Valley, call 928-772-9267, for Chino Valley 928-636-4223. For all other areas, call the Yavapai Sheriff's office, 928-771-3260. If you feel it is an emergency, dial 911. If you are looking for a lost animal or wish to adopt a pet, call the Yavapai Humane Society at 928 445-2666.
If you see a situation where an animal is being improperly treated, gather any information you can; a description of the dog, of the abuser, a license plate number or home address, and be prepared to give a description of the abuse that you witnessed. If you can get a video or photo of the abuse, that is most helpful.
Gray gave me a multi-page document with the rules regarding dog ownership in the city of Prescott. A couple of notable rules — It is illegal to walk a dog with a leash that is more than 6 feet in length. WOW! I do wonder if that rule ever is ever enforced. Another rule is that dogs are not allowed to run loose other than on their own property.
The very popular Flexi Leashes, which extend to 10, 15 feet and more, offer the dogs a wonderful opportunity to move around more freely and get more exercise, but they also cause so many problems due to allowing undesirable interactions with other dogs. I was aware that the Flexi Leashes caused problems because dog walkers were often not paying close enough attention and keeping their dogs under control, but I did not realize that it is against the law to use a leash longer than 6 feet!
Christy Powers is a freelance writer whose passion is studying and writing about pet health, nutrition and training. She can be reached at cpowerspak@gmail.com.
More like this story
SUBMIT FEEDBACK
Click Below to:
This Week's Circulars
To view money-saving ads...