How to talk to youth about the dangers of drugs
School districts hosting parent forums

By
Max Efrein
|
mefrein
Originally Published: December 1, 2018 9:40 p.m.
When a phrase like "opioid epidemic" is thrown around, and the deaths of young men and women from the use of highly potent drugs like fentanyl are reported in the news on a more regular basis, it's natural for parents to be concerned for their children.
Local school districts understand this and are striving to advance conversations on how to safeguard the area's youth, said Humboldt Unified School District (HUSD) Superintendent Dan Streeter.
"We are a close knit community, and we are in this together," he said.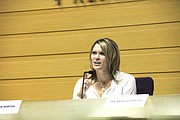 A conversation Streeter often has in the community addresses the difference between harm reduction and abstinence, and which of those two philosophies adults should be pressing upon children.
"The answer is abstinence," Streeter said. "I think we really need to think about the messages that get sent to adolescents."
In the 2016 Arizona Youth Survey, two of the main reasons eighth-, 10th- and 12th-graders said they use intoxicating substances are "to avoid being sad" and "to deal with stress."
"Our children are struggling in different ways," said Leslie Horton, director of Yavapai County Community Health Services. "My own son deals with anxiety. Things that could, over the long run, if not addressed or talked about, could possibly lead to some experimentation or issues later to cope with those stressors."
Making sure to set some quality time aside to speak with children is something that can alleviate some of these issues, Horton said.
"Talk about the things that are affecting them," she said.
Law enforcement officials believe additional, more aggressive measures, need to be taken by parents as well.
"Don't be afraid to go into your son or daughter's rooms and search their room," said Partners Against Narcotics Trafficking (PANT) Sgt. Jeremy Martin.
He suggests parents also check their children's vehicles and even their cellphones for any signs of drug use or discussion.
"Be a parent rather than a friend," Martin said. "You can potentially be saving their lives by going and searching and checking those things."
UPCOMING PARENT FORUMS
Two parent forums are being hosted in early December that will address current trends in regard to alcohol, marijuana, vaping and opioids in the community. Both are free and will also cover ways to open up a dialogue with children about the dangers of these substances.
The first will take place at 5:30 p.m. Thursday, Dec. 6, at the HUSD Transportation Training Room, 6411 N. Robert Road, in Prescott Valley.
For more information about this event, call Kelly Lee at 928-759-5109 or email Kelly.lee@humboldtunified.com.
The second forum will take place at 6 p.m. Monday, Dec. 10, at the Ruth Street Theater, 1050 Ruth St., in Prescott. For more information about this event, contact Armed to Know via its website, www.aremedtoknow.org.
Click HERE for 5 things to consider when talking with your teen.
#StopFentanylNow
More like this story
SUBMIT FEEDBACK
Click Below to:
This Week's Circulars
To view money-saving ads...