Church News: Week of Sept. 1
Originally Published: August 31, 2018 7:48 p.m.
Consecration of St. Paul and the Institution of Father Jerry Ellington as the Rector — The Reverend Jerry Ellington was instituted into St. Paul's Anglican Church as the Priest and Rector on Aug. 17 by the Presiding Bishop of the United Episcopal Church of North America, The Right Reverend Peter Robinson, at a ceremony at St. Paul's Church. Father Jerry had been serving as the Priest-in-charge since June of 2017.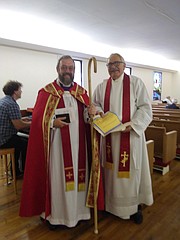 Bishop Peter Robinson was received at the entrance of the church where, following tradition, he had knocked on the door with his bishop's staff. The clergy and vestry met him at the door and escorted the Bishop into the church. There he was shown those documents which indicated that the mortgage of the church was now paid in full. The Sentence of Consecration of the Church was then read and laid upon the communion table.
Following the service of the Consecration of the Church, the junior warden of the vestry presented the Bishop with the key to the church, which the Bishop, "in the name and on behalf of St. Paul's Church, received and acknowledged the Reverend Jerry Ellington as Priest and Rector of the same. In token thereof, he presented the keys of the church to Father Jerry. He also presented the new Rector with a Bible, the Book of Common Prayer, and the Books of Canons of the General and Diocesan Convention.

The consecration of the church and the institution of the new rector were followed by a Holy Communion Service.
The congregation celebrated these events with a potluck dinner in the Parish hall and a burning of the mortgage paper outside.
Sunday services at St Paul's are held at 10 a.m. with an abbreviated Morning Prayer followed by the Holy Eucharist. On Wednesday, Morning Prayer is held at 9:35 a.m. followed by Holy Eucharist at 10 a.m. Bible Study follows and all are welcome to attend.
St. Paul's is located at 600 W. Hillside Ave., Prescott.
All are welcome to join Beit Torah Jewish Congregation (www.onetorah.org) in forgiveness studies for the sixth of seven weeks of comfort leading up to the High Holy Days. At 5:30 p.m. Sept. 1, we will have in Prescott a third Shabbat meal combined with Havdalah and followed by a Selichot forgiveness service. Sept. 10 is the first day of Rosh HaShanah. At 9:30 a.m. Sept. 11, we will observe the second day of Rosh HaShanah at Fain Park with shofar service, a festive meal, and a Tashlich casting away of sins. Please contact us if you are in need of a holy day visit or meal. For details: 928-237-0390, 928-227-0582 or email ansheitorah@cableone.net.
Temple B'rith Shalom, Prescott-Saturday Morning Shabbat service at 10 a.m. Saturday, Sept. 1. We will discuss this week's Torah portion: Ki Tavo, Deuteronomy 26:1 - 29:8. Shabbat evening service at 6 p.m. each Friday preceded by an Oneg Shabbat at 5:15 p.m. (a time to socialize). Friday, Sept. 7 Rabbi Cohn will share a teaching based on Parashat Nitzavim, Deuteronomy 29:9 - 30-20. This is the same Torah portion read on Yom Kippur morning. The rabbi will also offer a blessing to all those who celebrate their birthday in the month of September. Call 928-708-0018 for further information or email Rabbi@brithshalom-az.org. Temple B'rith Shalom, 2077 Brohner Way, Prescott. Spiritual Leader: Rabbi Holly Levin Cohn.
Temple B'rith Shalom, Prescott – from 7 to 10 p.m., Saturday, Sept. 7, we will celebrate an observance called S'lichot which falls the Saturday night before Rosh Hashanah (the Jewish New Year). This year, because Rosh Hashanah begins on Sunday Night, Sept. 9 we celebrate two Saturdays in advance since we should not hold S'lichot the night before. This year as we prepare our hearts for the High Holy Days, we will begin with a service of penitence where we change the Torah covers from our everyday cover to white covers recalling how we have missed the mark over the past year. This service will be followed by a movie and discussion. For more information about the movie being shown call 928-708-0018 or email Rabbi@brithshalom-az.org. Temple B'rith Shalom, 2077 Brohner Way, Prescott. Spiritual Leader: Rabbi Holly Levin Cohn.
"Making a Difference" — RN & Hospice Nurse Debra Mathewson and reporter Sue Tone will talk about their careers at the Prescott Unitarian Universalist Fellowship on Labor Day Sunday, Sept. 2, at the 11 a.m. service. Although different vocational pursuits, over the years both had careers that besides being personally fulfilling, were making a difference to others. Music performed by the multi-talented Meg Borhman.
Debra Mathewson graduated from Montana State University in 1976 with a Bachelors of Science in Nursing. Over a span of 30-plus years, and living in many states, she had a variety of nursing jobs including in hospitals, nursing homes, public health and hospice. Debra and husband Mark retired to Chino Valley in 2015.

Sue Tone writes for The Daily Courier and the Prescott Valley Tribune. In previous careers, she has been a teacher, juvenile probation officer, Superior Court clerk and motel maid. Her family moved to Prescott in 1969 and, except for 30 years in the Valley, she calls Prescott her home.
American Lutheran School is entering its 31st year of serving the needs of families with young children. Each child is encouraged to develop his/her unique abilities through hands-on learning experiences. The preschool's goal is to be an intentional enrichment program, adding to the nurturing foundations parents are providing at home. There are a few openings still available for the 2018-19 school year, which begins Sept. 4. ALS offers a two-day (Tuesday/Thursday) or three-day (Monday/Wednesday/Friday) program for ages 3-5, and a five-day program for students ages 4-5 who will enter kindergarten the following school year. More information, tuition rates, and registration forms can be found at www.americanlutheranschool.com or in the preschool office. For questions, please contact Director Lori Barbe at 928-778-7049.
Prescott Valley United Methodist Church at 8944 E. Sommer Dr. presents a study – Hell is real, but hell is not biblical: a Bible and Cultural view of Hell to reveal the truth rather than the myths and misunderstandings of this religious concept. It will be a four Wednesday event beginning at 1:30 p.m. Sept. 5, in the Worship Center for the four Wednesdays of September. A booklet for reading and discussion will be provided. Pastor Emeritus Gary Simons will be the Leader for this brief study event. If you have questions please call the church office 928-772-6366.
Mount Zion Tabernacle Church is hosting Joshua Densmore from Bethel Church in Redding, CA. We are having a healing and deliverance service. All are welcome! We are earnestly expecting miracles and deliverance! Join us at 6 p.m. Wednesday, Sept. 5, at 2797 Willow Creek Road, Prescott.
American Lutheran Church celebrates Rally Day on Sunday, Sept. 9. Following the 10:30 a.m. worship services, the new "back to church" season begins with a celebration of Pastor Jack Shannon's 25th anniversary of his ordination. There will be fun and fellowship for all ages, with a BBQ lunch and a spirit-filled afternoon. Attendees are encouraged to wear team jerseys to help "kick off" the season and show team spirit. www.americanlutheran.net or 928-445-4348.
Temple B'rith Shalom, Prescott - Sunday, Sept. 9 worship services in observance of Rosh Hashanah (The Jewish New Year) begin at 7:30 p.m. Morning services for Rosh Hashanah morning, begin at 10 a.m. Monday, Sept. 10. Services are held at The Adult Center of Prescott, 1280 East Rosser Street, Prescott. You do not have to be a member to worship with us for the High Holy Days. For more information call 928-708-0018 or email Rabbi@brithshalom-az.org. Spiritual Leader: Rabbi Holly Levin Cohn.
Jewish Season of Family, Food, Community and Renewal
Jews now approach their Spiritual New Year, Rosh HaShanah, which starts on the first day of the Jewish month of Tishrei and lasts for two days. This year it corresponds to the evening of Sept. 9 through Sept. 11. The New Year brings with it a season of remembrance and renewal.
We remember those role models who have passed leaving us an ethical legacy to follow. We remember our failures to follow our ethical precepts as we seek to make amends and achieve atonement and renewal. With each shofar blast sounded through the High Holy Days we remember to have hope that we can prosper for another year, we can be renewed.
Among the most enjoyable of all, we remember the many food and family traditions of the season. For example: On Rosh HaShanah some of us eat fish roe, sunflower seeds, or pomegranates for blessings of fruitfulness in all our endeavors. Dates, raisins, or honey on challah bread or apples are eaten for blessings of a sweet New Year. A fish or sheep's head is blessed so that we should start off the New Year from the head and not the tail. Foods like beets, leeks, and gourds are eaten to rid ourselves of evil people, decrees, and actions.
The tenth day of Tishrei culminates the ten Days of Awe with Yom Kippur, the Day of Atonement. During the ten days we are supposed to make amends for all our misdeeds. Although there is no eating on Yom Kippur, everyone looks forward to a festive meal breaking the 25 hour fast after the final shofar blast sounding.
Two weeks after Rosh HaShanah is Sukkot [the week-long Festival of Booths or Tabernacles]. Family, guests, and foods (especially those native to Israel) are also very important in this festival. The foods are important both for eating and for decorating the Sukkot, the booths in which we do as many of our activities as possible during the entire week including traditional prayers and blessings.
As instructed in the Torah [five books of Moses], we at Beit Torah welcome all to join in the High Holy Days observances and then in visiting in our sukkah during Sukkot. After all, we are all imperfect people in need of repentance and renewal.
National Fellowship of Chaplains, Inc. presents: an intensive 45-hour course. This course is designed for those who want to serve as Chaplains in fields such as community, law enforcement, disaster response, prison/jail, industry and hospital. This course is intended to qualify you to apply for licensing and credentialing as an IFOC Chaplain. Class dates are Aug. 27 to 31. The class will be held at Calvary Countryside Fellowship, 8776 E. Highway 69, Suite A, Prescott Valley. For local information, contact Pastor Ron Gardner at 928-442-6885 or Bob Hill at hillsrrobert@yahoo.com. For course information, call the IFOC office at 989-753-3211.
Prescott Men's Forum is a 501c3 organization formed by local businessmen 15 years ago to inspire American leaders to magnify Christ within their spheres of influence. They will be presenting a special video presentation by Erwin Lutzer entitled "One Minute After You Die." It will be held at 5 p.m. Sunday, Sept. 9, at the Stoneridge Community Center located at 1300 N. Stoneridge Drive. Free popcorn and soda will be served. Doors open at 4:30 p.m. The video starts at 5 p.m. Dr. Erwin Lutzer has been the Senior Pastor at the Moody Church in Chicago for over 35 years. He is featured on radio programs across the country, speaks internationally and is the award winning author of numerous books including, "One Minute After You Die" and "Hitler's Cross." The eight session video will be available for $8. The public is welcome.
American Lutheran Youth will continue to meet on Wednesday evenings from 6 to 8 p.m. at The Rock located across the street from Prescott High School. (655 Talwatha Dr.) At weekly ALC Youth Nights, middle school and high school-aged students enjoy engaging worship, music, fun games, relevant teaching, and small group break-out sessions. For more information, please contact Pastor Erich Sokoloski through the church office at 928-445-4348, ext. 305 or erich@americanlutheran.net.

Women of Wisdom (WOW) is American Lutheran Church's spirit-lifting, faith-renewing, life-inspiring program for women of all ages and backgrounds. Studies and classes are designed to meet the needs of today's busy woman. The fall session will run Sept. 12 through Oct. 31, meeting Wednesday mornings from 8:15-11:15 a.m. Childcare is provided (space is limited) and scholarships for class fees are available. Registration begins Sunday, Aug. 12. Copies of the complete 2018-19 WOW brochure are available and viewable at www.americanlutheran.net/wow. The first hour teaching for the fall session is "Revealing the Real Heaven" presented by Pamela Burmood. Many of our ideas about heaven come more from Hollywood, but Pam will share what the Bible actually says about the New Heaven, the New Earth, and the New Jerusalem. Second hour classes offered in the fall session include Surviving Epic Trials, The Case for Grace, Be Free, God Speaks Your Love Language, Paul -- a Man of Grace and Grit, Never Give Up, Becoming a Prayer Warrior, Wisdom from Women in the Bible, She's Got Issues, and How to have a Purposeful Thanksgiving and Christmas. Register as soon as possible by dropping off or mailing the registration form from the WOW brochure along with your payment to the American Lutheran Church office, 1085 Scott Drive, Prescott, AZ 86301. [Note: If you choose to attend only the first hour, there is no fee.]
Jane's Hope is a Christian ministry open to women who have relinquished a child through abortion or adoption, to share, heal, support each other, and experience forgiveness through Jesus Christ. The next meeting will be held Saturday, Sept. 22, at The Porch on 226 Montezuma at 10 a.m. For more information, please contact Prescott Christian Church at 928-445-0680, or email maryannwinslow1@gmail.com.
Something exciting is on the horizon for the Prescott Seventh-Day Adventist Church located at 2980 Willow Creek Rd.
At 11:45 a.m. Saturday, Sept. 22 a brand new contemporary worship service, called ReVive and designed for Youth and Young Adults will start. The atmosphere will be relaxed and the messages will be relevant to your daily life.
If you are checking out God and church for the first time or are looking for a new place to call home, ReVive is for you! Through meaningful Bible-study and incredible praise and worship our goal is to help you grow deeper in your relationship with God each week. You are personally invited to come join us. Jeans are fine and light refreshments will be served.
Very soon, people all over the world will be celebrating the feast day of the Patron Saint of Animals, Saint Francis of Assisi. It's customary that in remembrance of St. Francis of Assisi's love for all creatures, animals are led to churches for a special ceremony called the "Blessing of the Animals." Every year, millions of animals are blessed by priests in a ceremony that touches the hearts of all in attendance. St. Luke's Episcopal Church in Prescott, will celebrate the St. Francis of Assisi Blessing of the Animals at 2 p.m. Sunday, Sept. 30. Bring your animal friends for this very special time of fellowship and thanksgiving for their presence in our lives. All people and pets are welcome! St. Luke's is located at 2000 Shepherds Lane, Prescott. If you have questions, please call the office at 928-778-4499.

American Lutheran Church's Crossfire Men's Ministry continues through the summer months with Bible Storying Through the Scriptures, where a "leader of the week" chooses a Bible verse to dissect. Crossfire meets on Thursday mornings, with breakfast and fellowship from 5:45-6:15 a.m., storytelling from 6:15-6:30 a.m., and interactive table discussion from 6:30-7:30 a.m. Men of all ages are welcome to join at any time – no need to sign up; just show up! (1085 Scott Drive) Contact Crossfire Coordinator Dan Olson at 928-713-2428 for further information. www.americanlutheran.net or 928-445-4348.
American Lutheran Youth will continue to meet on Wednesday evenings from 6 to 8 p.m. at The Rock located across the street from Prescott High School. (655 Talwatha Dr.) At weekly ALC Youth Nights, middle school and high school-aged students enjoy engaging worship, music, fun games, relevant teaching, and small group break-out sessions. For more information, please contact Pastor Erich Sokoloski through the church office at 445-4348, ext. 305 or erich@americanlutheran.net.

Family Fest, from 10 a.m. to 2 p.m., Saturday, Oct. 6. Join us for this free family event featuring Octoberfest food, musical entertainment, booths highlighting Christian organizations and opportunities that our church has to offer. Bring your kids to have fun with our bounce house, water slide and more! Trinity Lutheran Church-God's World building, 3950 N Valorie Drive, Prescott Valley. For more information call 928-772-8845.
More like this story
SUBMIT FEEDBACK
Click Below to:
This Week's Circulars
To view money-saving ads...