Bears rout Youngker 54-14
Prep Football
By
Doug Cook
|
dougout_dc
Originally Published: August 31, 2018 11:54 p.m.
PRESCOTT VALLEY — For the first time in eight years on Friday night, Bradshaw Mountain's football team opened a season at 3-0. And the squad accomplished the mark in its inaugural game on Bob Pavlich Field's gorgeous new artificial turf.
Putting last year's 0-5 start in the rear-view mirror, the Bears rolled past Youngker of Buckeye, 54-14, behind a defense that gave its offense excellent field position in the 4A contest.
"Compared to last year's start, starting 0-5, this is the best feeling I could ever ask for," Bears quarterback Austin Gonzales said.
Photo Gallery
Bradshaw Mountain vs Youngker Football 08-31-18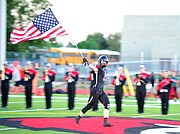 In front of a lively crowd that packed the home sideline's stands, Bradshaw Mountain tailback Anthony Mata registered 82 yards rushing on 12 carries and two touchdowns. Logan Brannan followed with 11 carries for 51 yards and two TDs. The Bears led 27-7 at halftime.
"Usually, we're not this explosive in the first half – but home-field opener, we had to take it to them," Mata said. "That's what we did, all game."
Gonzales completed 12 of 24 passes for 142 yards and two TD strikes of 13 and 6 yards, both to Ruben Gonzalez. Gonzalez finished with seven catches for 93 yards. Backup QB Josh Grant, a sophomore, tossed a 10-yard TD pass to Dade Herbert late in the game to cap the rout.
This 2018 Bradshaw Mountain bunch has matched the 2010 team's three-game winning streak to begin that campaign. That fall, the Bears qualified for the state playoffs, losing in the quarterfinals to eventual state champion Saguaro.
While the Grand Canyon region Bears remained unbeaten, Youngker of the Southwest region dropped to 0-2.
The Roughriders were coming off a 49-6 loss to Peoria in their season opener Aug. 24 at home. Last season, they went 7-4, including three losses by 1 point each. Youngker struggled on Friday, however.
Despite grabbing a 7-0 lead on a 31-yard TD run from speedy tailback Greg Dotstry with 7 minutes left in the first quarter, it was all Bradshaw Mountain after that, as the Bears scored 40 unanswered points. Bradshaw Mountain coach Chuck Moller credited his attacking, blitzing defense for smothering Youngker as the game progressed.
"It was, overall, a really good effort by our d-line and linebackers, both," Moller said.
Youngker coach Tony Cluff added about the Bears, "Their d-line came to play, and our o-line didn't. We knew what they had. We watched them on film. Their d-line was a little bit better than we thought. They were attacking and hitting gaps, and our line just wasn't catching them."
UP NEXT
Bradshaw Mountain plays host to 4A Greenway of the Skyline region at 7 p.m. Sept. 7. On Friday, the Demons crushed 5A Sierra Linda, 54-6, to improve to 2-0.
Youngker visits 6A Maryvale (0-3) at 7 p.m. Sept. 7 in Phoenix.
Doug Cook is a sports reporter for The Daily Courier. Follow him on Twitter at @dougout_dc. Email him at dcook@prescottaz.com or call 928-445-3333, ext. 2039.
More like this story
SUBMIT FEEDBACK
Click Below to: