Update: SR 89 reopens after fatal crash north of Chino Valley
Troopers report at least two vehicles caught fire
The Daily Courier
Originally Published: August 30, 2018 9:14 p.m.
Updated as of Friday, August 31, 2018 2:29 AM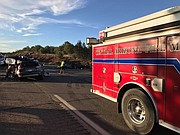 Multiple fatalities were reported and State Route 89 was closed after an accident involving several vehicles Thursday afternoon on the northbound side, north of Chino Valley.
Arizona Department of Transportation (ADOT) troopers responded to the scene, and traffic was closed in both directions between mileposts 348 and 362 north of Chino Valley, according to ADOT. Traffic was turned around at the closure points.
Officials said that SR 89 was reopened about 9:48 p.m. Thursday. Motorists were advised to take an alternate route, such as State Route 89A or Interstate 17, during the closure.
Preliminary information showed a vehicle crossed the centerline, striking another vehicle head-on, according to ADOT.
One of those vehicles then struck a third vehicle parked on the shoulder of the highway.
At least two vehicles in the collision caught fire. The fire then spread to the nearby brush; that fire was contained, ADOT reported.
Troopers said that there were multiple fatalities and multiple injuries. Two helicopters responded to the scene as well as multiple ambulances, according to ADOT.
In a statement the Central Arizona Fire and Medical Authority said, "At 5:12 PM today CAFMA Engine 63, Engine 61 and Battalion 6 were called to an agency assist by AZ DPS for a motor vehicle accident on Highway 89 near MP 353 north of Drake Cement plant.
Upon arrival on scene CAFMA units found 3 vehicles with heavy damage. 2 of the vehicles had engulfed into flames with victims trapped inside. CAFMA personnel assisted crews from Kaibab Estates Fire Department, Seligman Fire Department, Lifeline Ambulance and DPS, who all were already on scene prior to CAFMA units arrival, to secure the scene and ensure all patients were treated and transported to appropriate medical facilities for optimum care.
There was a total of 9 patients in 3 vehicles involved in the accident. 2 patients were transported by Guardian Air ambulance to Level 1 trauma centers, 3 patients were transported by Lifeline Ambulance to Yavapai Regional Medical Center, 3 patients were fatalities on scene and 1 patient refused transport to a medical facility.
All agencies worked together to provide safe and effective patient care on a very stressful scene."
SUBMIT FEEDBACK
Click Below to: