Deputy arrives in time to rescue victim being attacked by robbery suspect
Victim called 911, fought with intruder
Originally Published: August 29, 2018 12:26 p.m.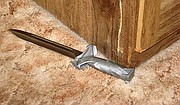 A Black Canyon City resident has a Yavapai County Sheriff's Office (YCSO) deputy to thank for coming to his rescue during an attempted home robbery Monday morning, Aug. 27, according to a YCSO news release.
At about 7:30 that morning, deputies were dispatched to a residential burglary in the 34000 block of Bertha Street in Black Canyon City.
When the first deputy arrived, he heard someone yelling inside the home, YCSO reported. The deputy entered the home through an open door and saw a person dressed in all black on top of an older adult man.
The deputy rushed in and removed the apparent suspect, 24-year-old Michael Chavez-Watsula, off the 70-year-old victim. The suspect, wearing a ski mask underneath a black hoody jacket and black gloves, was restrained by the deputy and handcuffed. The victim told the deputy a large knife brandished by the suspect was laying nearby, YCSO reported.
During a pat-down search of the suspect, the deputy located a knife sheath, four zip ties, sunglasses that had the lenses covered in duct tape and rubber gloves.
Deputies cleared the home and outlying property and confirmed no other suspects were present. They also found several power tools on the property apparently removed from the victim's garage by the suspect, YCSO reported. The victim was treated by fire personnel and suffered some bruising during the assault.
The victim told deputies that earlier in the morning he awoke to find a door to his garage – normally closed – was open. He noticed shoeprints nearby and followed them to the northwest corner of his property where he saw several of his power tools thrown over the fence. At this point, he called 911 to report a burglary and returned to his home.
A few moments later, as he exited the bathroom, he was confronted by the suspect, dressed in all black, brandishing a large knife. The suspect told the victim he was being robbed and ordered him into the bedroom. The victim refused and began struggling with the suspect over the knife and fought in the hallway until the suspect was able to get on top of him. It was at this time the deputy arrived and subdued the suspect, YCSO reported.

Chavez-Watsula lives near the victim's home and admitted his intent to steal property, and get cash from the victim, YCSO reported. He planned on tying up the victim with zip ties and placing the glasses with duct tape over the lenses on the victim so he could not see.
The suspect was booked into the Yavapai County jail on charges including armed robbery, kidnapping, aggravated assault, burglary and theft. He remains in-custody on a $150,000 bond.

More like this story
SUBMIT FEEDBACK
Click Below to: