Boy struck by vehicle on May 7 back to school, doing well
Fire department recognizes student's friend who called 911

By
Max Efrein
|
mefrein
Originally Published: August 29, 2018 8:47 p.m.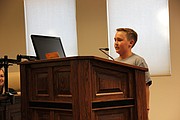 A sense of joy was clear throughout the room when Nathan Rendl got up from his seat in the Chino Valley Town Council Chambers and walked up to the podium on his own Monday night, Aug. 27.
Nearly four months ago, Nathan, 12, was hit by a car while crossing Lakeshore Drive shortly after getting out of school. He suffered life-threatening injuries and was flown to Phoenix Children's Hospital, where he spent 39 days battling significant brain trauma, among other injuries.

In that time, the Quad-Cities community rose up to support Nathan, and his family, financially and emotionally. Through GoFundMe alone, nearly $14,500 was raised to help cover medical and related expenses.
Though slowly, Nathan managed to recover quite well.
"He's kind of a miracle," his mom, Daphne, said.
During a Central Arizona Fire and Medical Authority (CAFMA) board meeting Monday, Nathan made a public appearance with his family and friends to announce his well-being.
"I don't know if you guys know, but I'm doing amazing right now," Nathan said. "Thank you for all your guys' support."
The primary reason they were at the meeting, however, was to recognize Rendl's friend Garrett Busch.
Garrett, 12, happened to be near Nathan when he was struck on May 7 and quickly called 911.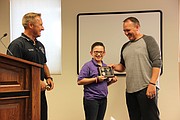 To celebrate his heroism, CAFMA presented Garrett with a plaque that read: "Central Arizona Fire and Medical Authority gives recognition to Garrett Busch for remaining calm, acting quickly and calling 911, saving the life of his friend on May, 7, 2018."
Nathan is currently back in school. He's still going to physical therapy on a weekly basis to improve his motor functions, but the marathon toward recovery is getting a lot easier, Daphne said.
"We just look at every day as being a day further from May 7," she said.
DRIVER OF CAR CHARGED
The driver of the vehicle that struck Nathan was a 16-year-old girl, according to the Prescott Valley Police Department.
She reportedly stopped briefly after the accident, and then continued to drive east on Lakeshore Drive before pulling over in a parking lot along Windsong Drive.
Police spoke with the driver, but no arrest was made and no charges were immediately filed.
After reviewing the case, the Yavapai County Attorney's Office filed a juvenile petition on July 19 for the following charges against the girl: Leaving the scene of a serious injury accident (class 2 felony), failure to give information and render aid (class 3 felony) and failure to render aid at an accident (class 6 felony).
The girl's legal case is still going through court proceedings.
No information has been provided by authorities as to why the incident occurred.
More like this story
SUBMIT FEEDBACK
Click Below to:
This Week's Circulars
To view money-saving ads...