Originally Published: August 28, 2018 3 p.m.
Updated as of Tuesday, September 4, 2018 8:11 AM
Yavapai County Fair runs Sept. 6-9
Get your kicks at the county fair — in the Horticulture Department
Yavapai County Fair General Manager Rosie Darby said there are activities in each department. The livestock auction is Saturday night, which starts with a barbecue at 3:30 p.m. and features animals and products from youth living in Yavapai County who belong to various livestock organizations such as 4H and FFA.
The auction begins at 5 p.m. and there are conformation shows all day Thursday; showmanship shows all day Friday; a dog show from 9:30 a.m. to 2 p.m. Saturday; and various shows on Sunday, Sept. 9.
Departments within the County Fair include alpaca, agriculture/horticulture, agricultural mechanics, open beef, floriculture, home brew, creative arts, homemaking, collections, photography, horse, specialty livestock events, poultry, rabbit, school educational exhibits and open sheep/swine/goat.
The fair opens at 9 a.m. Thursday through Sunday; the carnival is open from 4 to 10 p.m. Thursday; 1 to 10 p.m. Friday; 10 a.m. to 11 p.m. Saturday; and from noon to 6 p.m. Sunday.
The Yavapai County Fair is located at the Prescott Rodeo Grounds, 848 Rodeo Drive, Prescott. For more info, http://www.yavapa...">visit yavapaifair.com.
Who has the biggest pumpkin in Yavapai County? What about the juiciest, tastiest tomatoes? Looking for a recipe for carrot muffins or strawberry-jalapeno jam?
Beginning Thursday, Sept. 6, and running through Sunday, Sept. 9, members of the Yavapai County Fair Horticulture Department will answer questions and tell you all about growing worms.
Worms?
Not just for kids, worm farms are one of the best things gardeners can have for their soil, said Master Gardener and one of three Horticulture superintendents, Lori Dekker. On display in the Horticulture building will be her worms where people can learn how to use the castings as an organic soil enrichment.
Unlike other exhibits, the Horticulture Department has to have an educational component, and the worm ranch display meets that requirement.
Her Arizona born-and-raised worms came from Phoenix and cost $40, Dekker said. She keeps the worms in a tub in her carport and feeds them banana peels, coffee grounds and shredded newspapers, among other things.
Dekker also will provide fair-goers with a look at her mushroom garden. She likes to add pink oyster mushrooms to her scrambled egg breakfasts, and said anybody can grow them in their kitchen.
"Pink oyster mushrooms are tropical, and you can grow them in the Arizona heat. You can't grow them on your roof or anything, but they're fine when kept under 84 degrees," Dekker said.
PRIZES FOR WINNERS
Serious gardeners, and also those who throw a few seeds into the backyard weeds and find themselves overrun with zucchini, are gearing up to enter their prized produce in the fair. This year, first-place winners will be awarded more than a blue ribbon, said Master Gardener and fair superintendent Marion Johnston.
Most departments offer cash prizes, albeit small amounts, for first- through third-place winners. Horticulture and Floriculture, however, do not receive money from the Fair or Master Gardeners, Johnston said. She is busy gathering prizes from local businesses that are "giving out of the goodness of their hearts."
Steve Miller, owner of the Native Garden, is offering a $25 gift card for the largest tomato. Johnston said an entrant's age is not a factor, as this past year's winner of Best of Show was 7 years old. Many entries also come from assisted living facilities where residents work with raised garden beds.
The timing of the fair with this growing season has been good for growers of tomatoes, squash, onions, carrots, chilis, cucumbers, eggplant, potatoes and dried beans. Not so much for corn, pears or flowers. The early September date is too late for lettuce and too early for root vegetables, Johnston said.
In fact, her early apples got hit by hail five times and are pockmarked, something judges would score poorly.
WHAT JUDGES LOOK FOR
Judges look at the condition, maturity, shape, color, texture, freshness of the fruits and vegetables, in addition to bug damage, weather imperfections, and correct labeling.
In an effort to speed up the intake process, this year people can apply online at yavapai.fairwire.com and make as many entries as they want, but only one entry in each class. For instance, they can enter numerous onions in the onion division, but only one in Class 1 Pearl or Class 3 Red.
If entering the new dried herbs category, gardeners may want to pick the fresh herbs now to be ready for dropping them off on Wednesday, Sept. 5.
Photo Gallery
Yavapai County Fair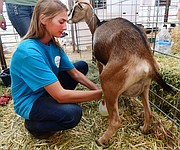 FAVORITE RECIPES
Johnston said a surprise hit for visitors this past year were photos of a plate of in-season ingredients needed for an accompanying recipe.
"It's one thing to grow food, but what do you do with it?" she said. "I like to encourage people, especially kids, to 'Eat your garden!'"
This year, she will feature a strawberry-jalapeno jam that is "to die for and not super hot," and carrot muffins. She always includes a recipe for zucchini, which, by the way, get tough and bitter when they — and cucumbers — grow the size of baseball bats.
The best part of the fair for Johnston is talking to people who browse the exhibits.
She or other volunteer Master Gardeners are available all four days to answer questions.
"The only reason we're doing this is because we have a blast. Every age can get their kicks out of gardening," she said with a laugh.
For more information on the Yavapai County Fair, visit www.yavapaifair.com.
More like this story
SUBMIT FEEDBACK
Click Below to:
This Week's Circulars
To view money-saving ads...