Republican governor, Latino Democrat favored in Arizona
Originally Published: August 28, 2018 4:44 p.m.
PHOENIX — The incumbent Republican governor and a Democratic Hispanic education professor appeared likely to win their parties' respective nods in the primary election for Arizona's top office.
Both Gov. Doug Ducey and Democratic front runner David Garcia earlier announced suspension of campaign gatherings later in the week when events are planned to honor Sen. John McCain, who died Saturday from brain cancer, including a private service followed by a public viewing Wednesday at Arizona's Capitol Rotunda.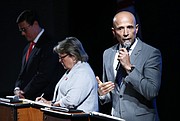 The governor has focused his re-election bid on border security and job creation, promoting a new law enforcement collaboration effort called the Border Strike Force. His top GOP challenger is former Secretary of State Ken Bennett, a more conservative Republican who had little funding and campaign resources.
Garcia emerged over the summer in the three-way Democratic race with state Sen. Steve Farley and Kelly Fryer, former CEO of the YWCA Southern Arizona. The fourth generation Latino Arizonan is a professor at the education school at Arizona State University.
All three Democrats have focused on school funding during primary campaigning. They also promised to pull back the National Guard troops that Ducey sent to the U.S.-Mexico border at the request of President Donald Trump.
Both parties appear likely to funnel millions of dollars into November's gubernatorial contest.
The Republican Governors Association over the summer broadcast attack ads against Garcia, linking him to calls to abolish the Immigration and Customs Enforcement agency.
But some Democrats see Ducey as vulnerable after an unprecedented statewide teacher strike to demand higher school funding. Although Ducey's proposal to give teachers a 20 percent raise over three years passed in the state budget, teachers had demanded $1 billion in new money for schools.
SUBMIT FEEDBACK
Click Below to: