Retirement nears for longtime Yavapai College president
Dr. Wills has spent nearly a half-century in higher education

By
Nanci Hutson
|
HutsonNanci
Originally Published: August 25, 2018 6:38 p.m.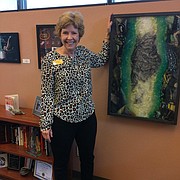 Unlike most of her teenage peers, Yavapai College President Penny Wills did not hang posters of rock stars on her bedroom walls. She was far more intrigued with such pioneering astronauts as Neil Armstrong, John Glenn and Buzz Aldrin.
From a family that believed with education "you can be whatever you want to be," Wills said she was "dumbfounded" when her mother dashed her dreams of becoming an astronaut. Yet it wasn't because she was a woman. Rather, her mother recognized she did not have the perfect vision required to become a pilot, the early pre-requisite for all astronauts.
Never mind that in her later years Wills discovered she is claustrophobic and afraid of heights.
So the Cincinnati, Ohio native pursued a new ambition – one with twists and turns that landed her exactly where she could pack the most wallop for aspiring young adults, some first generation students.
In December, Wills will retire from an impressive, nearly half-century career in higher education.
Her mantra then and now: "Don't limit yourself. Go for the best."
BACKGROUND
In 1974, Wills earned a bachelor's of science degree in elementary education from the University of Cincinnati.
Her choice of study came after she found she was ill-suited for the other two main options for women of her era: to become a Roman Catholic nun – she was educated in Catholic schools – or a nurse.
Even then, she still had to refine her choice.
"I wasn't comfortable with little kids. I didn't know what to do with them," Wills admits.
She, again, regrouped.
One year after earning her bachelor's degree, Wills earned a master's of science degree in personnel counseling from Miami University in Ohio.
That started her college-oriented career working with students, everything from running residence halls to advising freshman on what courses to take. She started to climb a professional ladder that led her to Michigan State University – she also spent time at the University of Florida and New Mexico University before later taking positions in Oregon, Georgia and Iowa before her move to Arizona - and a 1983 doctorate of philosophy administration in higher education.
To read Wills' resume, one must wonder when she found time to sleep.
In her nine-year tenure at the Portland Community College, Wills developed the state's first college transfer center and established a nationally recognized Women's Resource Center to assist single parents and displaced homemakers that became a model for the state's Welfare Reform Program.
She was hired in 2004 to her first president post at Northwest Iowa Community College; she was selected to be the Yavapai College president in 2011.
Yavapai College is a two-year institution with two campuses, one in Prescott and one in the Verde Valley, and four satellite facilities. The college has an $87 million operating budget, 1,200 faculty and staff and offers 10,000 credit and 5,000 continuing education courses.
The college boasts a renowned nursing program and a wine institute in Clarkdale; there is a career and technology center in Prescott Valley as well as offering courses in the culinary arts, cybersecurity, forensic science, business, all types of performing and visual arts and education. Many students who earn an associate's degree are eligible for immediate transfer to one of the state's three public universities and beyond, Wills noted.
The college's student body spans the spectrum from babies at the Family Enrichment Center to centenarians enrolled in continuous adult learning courses. The Prescott campus has a state-of-the-art performing arts center – this weekend's sell-out entertainment was late night talk show host and comedian Jay Leno.
"The mission of a community college is to be accountable to the community in which it resides," Wills said.
Attributes
An amiable woman, Wills is credited with a contagious vision for learning beyond the classroom.
Prescott Unified School District Superintendent Joe Howard hailed Wills as an exemplary leader with a penchant for building community partnerships.
"Yavapai College has always been such a great institution, and I just think Penny brought an added touch of class," Howard said.
"Through her dedication to both the college and community, Dr. Wills challenged the college to step outside of our comfort zone, to be innovative, and responsive to meet the growing needs of the community. She is clear about Yavapai College being the community's college," said Rodney Jenkins, vice president of community relations.
REFLECTION
The now Prescott resident who intends to stay close after retirement said she welcomes the next adventure, including time with husband, Ron, catching up on books she has had no time to read, and finding new ways to "give back."
"I loved my career, and I hope I made things better, with my team," Wills said.
ENDURING THOUGHT
Will's message to all Yavapai students – yesterdays, todays and tomorrows:
"Think about who you are, and come to peace with that."
More like this story
SUBMIT FEEDBACK
Click Below to:
This Week's Circulars
To view money-saving ads...