Originally Published: August 25, 2018 10:03 p.m.
Photo Gallery
Prescott Valley 40th Fireworks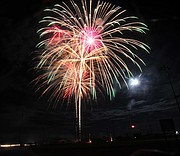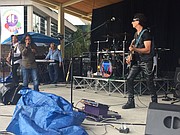 Prescott Valley celebrated its 40th anniversary with a gigantic party at the civic center Saturday, Aug. 25, and the festivities are set to continue Sunday, Aug. 26.
One attendee, Debbie Karis, was out listening to the day's entertainment — music provided by Voyage, a Journey cover band. Karis said she enjoyed the show.
"Journey's our favorite and they sound just like Journey," she said, noting the band is what drew them to the event in the first place "because we don't have our grandchildren here so the fun stuff we didn't go to."
Other attractions included inflatables, a rock climbing wall and a gyroscope ride, which Louisa Hale rode. It was Hale's first time on such a ride and she said the experience was fun. Meanwhile, Sarah Voss was waiting in line with her children who wanted a turn. Voss said they came out to the celebration after seeing it advertised all over the place. It's something to do and it's not every day the town turns 40 years old, she said.
While the turnout was smaller than expected because of the rain, Prescott Valley Special Events Coordinator Hope Hooper said it was still a great crowd. The expectation was that it was going to be packed, Hooper said around 2 p.m. Since it was only early in the afternoon, she anticipated more people as evening drew near with the fireworks show.
There's also tomorrow, Hooper said.
"We were expecting to hit 2,500 to 3,000 people each day," she said. So I think by the time we hit 10 p.m. … we should probably hit that."
Saturday night's fireworks show, held at Mountain Valley Park, combined the $30,000 spent on fireworks for the Fourth of July show — which were canceled because of hot, dry weather conditions — with the $5,000 set aside for the 40th anniversary fireworks show. Hooper said it would be the largest fireworks show in Northern Arizona.
The 40th anniversary celebration continues Sunday with Cowboy Church services at 11 a.m.; Goin' to the Chapel, when several real weddings and rehearsals of vows will take place in the Theater on the Green stage with Town Magistrate Keith Carson at noon; and Gospel Power Time at 1 p.m.
For entertainment Sunday, pianist Dr. Kaveh Karandish performs at 2:30 p.m. on the Theater on the Green Stage; Colby & Awu at 3 p.m.; the Scandalous Hands Band at 4 p.m.; magician Kevin Barnes at 5 p.m.; and ABBAFAB at 6 p.m.
In the performance tent is the Show and Tell Road Show at 10 a.m.; Harpy Trials perform at 1:30 p.m.; Desert Cats at 3 p.m.; and Kelly Cordes presenting regional history at 4 p.m.
The auto show runs Sunday from 9 a.m. to 4 p.m. with an ice cream social at 3:30 p.m. The beer garden opens at 11 a.m.
More like this story
SUBMIT FEEDBACK
Click Below to:
This Week's Circulars
To view money-saving ads...