Distracted driving contributed to Highway 89A rollover
Driver allegedly under influence, in possession of drugs
Originally Published: August 23, 2018 2:52 p.m.
Updated as of Thursday, August 23, 2018 5:11 PM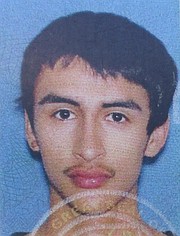 The driver of a vehicle that rolled on Highway 89A near Yavapai Downs Wednesday morning, Aug. 22, was allegedly under the influence and in possession of illicit drugs, according to the Prescott Valley Police Department (PVPD).
At about 9:30 a.m., PVPD and the Central Arizona Fire and Medical Authority responded to the scene of the accident at milepost 326.5.
When officers arrived, they found a black 2018 Chevy four-door sedan resting on its roof on the north side of the highway. Its driver and sole occupant was found to be Gary Amaro, 19, from Clarkdale, PVPD reported.
Amaro told officers he had been driving westbound on Highway 89A from Clarkdale when he tried adjusting the vehicle's radio. Due to inattention, he missed a curve on the road and drove into a ditch, causing the vehicle to roll several times. Officers found that the airbags in the vehicle had deployed and Amaro was not wearing a seatbelt. Amaro suffered only minor injuries and refused medical treatment, PVPD reported.
During the course of the traffic accident investigation, police determined that Amaro was under the influence and in possession of illicit drugs when the accident occurred.
Amaro was arrested and booked into the Yavapai County jail on charges of driving under the influence (a misdemeanor) and possession of dangerous drugs (a felony).
SUBMIT FEEDBACK
Click Below to:
More like this story