300 show up to oppose multi-family zoning plans in Pronghorn
Proposal to rezone commercial acreage at 89A to townhomes, apartments
David Maguire applied for a minor general plan amendment and rezoning of property Monday, Aug. 20, along the southern edge of the Pronghorn subdivision along Highway 89A, and two days later, he held a community meeting to explain his plans to a substantial gathering of unhappy residents.
"I anticipated 50 and brought 80 chairs," he said to the overcrowded room of 300-plus people crammed into the training room of the Humboldt Unified School District transportation facility.
Following a brief description of his plans to build high-quality multi-family homes on about 56 acres of the 129 acres he currently owns, audience members had about 30 minutes to ask questions before Fire Marshal Rick Chase appeared and asked people leave. Maguire promised to set another meeting in a larger venue.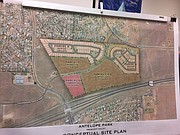 His plans call for the development of seven neighborhoods of various densities along Highway 89A, together with room for commercial businesses such as a grocery store on 11 acres. These will act as a buffer between highway traffic noise and the single-family residences already in place.
This makes more sense than building high-density homes toward the northern end of Pronghorn Ranch with an increase in vehicle traffic from one end to the other, he said. The highest density planned is 12-14 units per acre, with apartments possibly 30 or 40 feet maximum height. He later said he would keep those to two-story buildings if that's what residents want.
Decreasing the existing commercial zoning also makes sense, Maguire said, because there has been no interest from businesses to come into that area. "We believe that the addition of new residents in the area will finally make the commercial area viable. It is our hope to attract a grocer to the commercial site," he said.
The vocal, and at times, disruptive, audience expressed concerns over limited access into Pronghorn as well as routes out of the subdivision. Maguire acknowledged that existing roads are insufficient; plans call for widening Viewpoint Drive, and the Arizona Department of Transportation is looking at adding a middle lane and double turn lanes from the highway, he said.
Two residents voiced concerns about paying for new infrastructure and sharing the existing amenities. Maguire said neither will happen; new neighborhoods would have their own amenities and new development pays for the infrastructure such as water, sewer, utilities and streets.
One woman talked about Section 8 housing and renters who have no pride of ownership. "People can't sell their homes, so those become rentals and it all attracts vagrants, the homeless, drug users, crimes, and the whole neighborhood turns into a barrio," she said to applause from the audience. "We don't want rentals."
Maguire said there would be no Section 8 housing before calling an end to the meeting and promising to set up another soon.
"I've got a lot of work to convince you," he said.
More like this story
SUBMIT FEEDBACK
Click Below to:
This Week's Circulars
To view money-saving ads...