Ticks gaining ground across the country

Originally Published: August 20, 2018 7:13 p.m.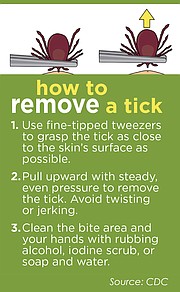 Ticks. They're tiny, can hide well, carry disease and they're gaining ground.
According to a study done by Northern Arizona University based on a sample of more than 16,000 ticks collected from 49 states (excluding Alaska) and Puerto Rico, the range of ticks has spread to more than 80 counties nationwide where they have never been reported before.
With them, come such diseases as Relapsing fever, Rocky Mountain spotted fever and Lyme disease, a potentially fatal infection carried by deer ticks and is one of the country's fastest-growing infectious diseases.
Statistics released by the Centers for Disease Control and Prevention (CDC) state that there are more than 329,000 new cases of Lyme disease each year with a total of eight confirmed cases in Yavapai County between 2000 and 2016.
Stephen Everett, an epidemiologist with Yavapai County Community Health Services who specializes in communicable disease investigation and disease and syndromic surveillance, stated those cases did not come from ticks in Yavapai County, or even the state.
"There is no local Lyme disease in Arizona," Everett said. "Any confirmed cases are from travel."
There are some people who do test positive after being bitten by a tick in the state, but those tests are not very accurate, he said.
However, the study did find that hard ticks, such as the deer tick which carries the bacterial cause of Lyme disease, have been reported for the first time in Maricopa and Pinal counties. The study was conducted in partnership with the Bay Area Lyme Foundation.
Linda Giampa, executive director of the foundation, said it's critical to take precaution and know the symptoms of tick-borne infections, even in areas where ticks have not previously been shown to cause disease.
"Identifying geographic patterns of tick-human contact provides valuable insight that may help public health officials, patients and physicians become more vigilant about Lyme disease symptoms and increase early diagnosis," Giampa said.
Symptoms of Lyme disease include chronic fatigue, unexplained rashes, achy, swollen joints, flu-like symptoms and changes in sleep or vision; it often goes untreated because of difficulty to diagnose. Public health officials recommend people, who have traveled to areas where deer ticks are prevalent, to see a doctor if they develop those symptoms.
More common than Lyme disease, locally, is Rocky Mountain spotted fever and Relapsing fever, said Everett.
"We've seen quite a few cases of those over the years," he said.
Symptoms of Rocky Mountain spotted fever include fever, chills, muscle aches and a rash that develops after two to five days, Everett said. As for Relapsing fever, its symptoms are a fever, which the affected person recovers from, and then relapses after a few days, he said. Quick treatment is essential for Rocky Mountain spotted fever, while Relapsing fever can be treated easily with antibiotics.
The best way to stop ticks is taking basic preventative measures such as wearing longer pants and sleeves and lighter colors so you can see them, said Darren Tucker, wildlife manager supervisor for Prescott at the Arizona Game and Fish Department.
Tucker also recommended a permethrin spray called Sawyer, which can be sprayed on clothing and will repel and kill ticks, chiggers, mosquitoes and other insects.
"It'll stay on your clothes after multiple washings even," Tucker said. "When I have used that stuff … I have not had one single tick on me and other guys that have not used that stuff, they pick off a dozen ticks off their clothes over the course of a day."
TICK NOTES
• Remove the tick as soon as possible.
• If tick mouthparts remain in the skin, leave them alone. In most cases they will fall out in a few days.
• Don't use nail polish, petroleum jelly, or a hot match to make the tick detach.
• If you develop a rash or fever within several weeks of removing a tick, see your doctor. Be sure to tell the doctor about your recent tick bite, when the bite occured, and where you most likely acquired the tick.
For more information visit the CDC tick page
LEARN MORE
Yearly Breakdown of Lyme Disease Cases in Arizona
Yearly Breakdown of Lyme Cases in Yavapai County
Centers for Disease Control and Prevention Tick Page, cdc.gov/ticks
More like this story
SUBMIT FEEDBACK
Click Below to: