PANT seizes marijuana growing operation, butane hash oil lab
Nearly 150 plants being grown; product allegedly sold to anyone
Originally Published: August 20, 2018 6:10 p.m.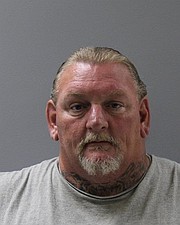 An investigation by Partners Against Narcotics Trafficking (PANT) detectives has resulted in the seizure of nearly 150 marijuana plants in the Ash Fork area, and the arrest of the plants' alleged cultivator in Paulden.

In the last several months, PANT detectives received information from several sources regarding ongoing marijuana cultivation on a parcel in Juniper Woods Ranch, Ash Fork, according to the Yavapai County Sheriff's Office (YCSO). By scouting the area, they determined there were both marijuana plants and an active cultivation operation to care for them.
Thomas Vincent Williams, 50, was eventually identified as the caretaker for the cultivation, PANT reported. Detectives then learned Williams had recruited "patients" from the area in an attempt to legitimize his business under medical marijuana state statutes.
"Williams was known to sell to anyone with, or without, a medical marijuana card," said Yavapai County Sheriff's Office spokesman Dwight D'Evelyn.

Detectives also received a report from an out-of-state narcotics task force regarding contact with Williams, YCSO reported. They learned that earlier this year, Williams was arrested for transporting 21 pounds of marijuana by the out-of-state task force while carrying several thousand dollars in cash. He claimed the marijuana was for a sick friend and the cash came from "donations" he received from his "patients" in Arizona.
"This would be illegal under the Arizona Medical Marijuana Act," D'Evelyn said.
After checking with Arizona Department of Health Services, the agency that manages Arizona's medical marijuana program, detectives found that Williams had caregiver/cultivation status earlier this year, but the status expired as of late July. But even with legal status, the amount of plants being cultivated far exceeded the 12-plant maximum under Williams' current status, D'Evelyn said.
As they reviewed the operation, detectives discovered that Williams would take mature marijuana buds to his home in the 700 block of West Dog Road, Paulden, for processing and packaging. On August 16, detectives obtained a search warrant for the home and the cultivation patch. At the home, they found a butane hash oil* lab and Williams admitted to manufacturing marijuana wax, hash and oil, YCSO reported. About 75 grams of marijuana wax and nearly 70 pounds of marijuana in various stages of processing were also seized.

At the Juniper Woods location, detectives seized 144 well-cared-for marijuana plants in various growing stages.
Williams was arrested following the search warrant and booked into the Yavapai County jail in Camp Verde on charges including manufacturing/sales of marijuana, manufacturing a narcotic and a weapons offense regarding a firearm seized. He is being held without bond.
More like this story
SUBMIT FEEDBACK
Click Below to: