Meteorite found in Glendale purchased by Prescott collector
Fifth observed meteorite fall in Arizona

By
Max Efrein
|
mefrein
Originally Published: August 20, 2018 4:59 p.m.
Updated as of Thursday, August 23, 2018 9:17 AM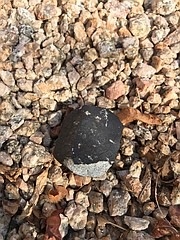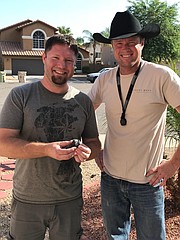 Robert Ward, a meteorite hunter living in Prescott, has added the first finding of Arizona's most recently observed meteorite fall to his extensive collection of space debris.
Glendale resident Cody Horvath found the meteorite in his home's yard on Aug. 14, Ward said.
"It's an absolutely amazing recovery from a homeowner who had an eye for something that didn't fit in in his yard," Ward said.
Horvath reported the finding to Arizona State University (ASU) professor Laurence Garvie, curator of the university's Center for Meteorite Studies, who visited Horvath's home with Ward and another meteorite hunter, Ruben Garcia, on Friday, Aug. 17, to examine the specimen. Aside from some damage it received from its impact with granite gravel and weathering from a couple weeks of sitting in Horvath's yard, the meteorite was authenticated and in good condition.
"It's a remarkable stone," Ward said.
The meteorite fall happened around 8:30 p.m. on July 27. Twelve Arizona residents from Phoenix to Tucson reported to the American Meteor Society that they saw fireballs in the sky that evening. However, Garvie believes many more people likely saw the event, but mistook the flashes in the sky as monsoon lightning, according to ASU's Center for Meteorite Studies. This was only the fifth observed meteorite fall documented in Arizona.
A meteorite "fall" is when pieces of space debris actually reach the earth's surface. The American Meteor Society estimates about 10 to 50 meteorite dropping events occur over the earth each day, but only about 2 to 12 are on land in habited areas. To date, there have been 163 officially recognized meteorite finds in Arizona.
So far, Horvath's find is the only meteorite from the July 27 fall that has been recovered. The piece is identified as ordinary chondrite, the most common type of stony meteorite.
"There's definitely other meteorites out there, but we've had three days of professional meteorite hunters combing the area and still no finds," Ward said. "They may very well have fallen on people's roofs and their backyards, so it may be up to the homeowners in the area to find more pieces. We haven't had any luck combing open fields, paths and roads."
Ward purchased the meteorite for an undisclosed amount, and ASU has received a chunk at no cost for scientific analysis. With this purchase, Ward has specimens from all five witnessed falls in Arizona in his collection, along with about a dozen or more finds from other unobserved falls in Arizona.
Previous observed meteorite falls in Arizona
2016: A large fireball was observed over eastern Arizona on June 2, 2016. Doppler radar returns indicated the meteorite landed on the lands of the White Mountain Apache Tribe. At least 15 meteorites have been recovered.
2009: The Whetstone Mountains fall occurred on June 23, 2009 in Cochise County in southeastern Arizona. The first stone was recovered less than 45 hours after the fall. At least 20 stones have been recovered.
1998: The Indian Butte fall occurred on June 7, 1998, in Pinal County, west of Casa Grande. However, pieces were not found until 2013 with the help of Doppler radar returns. At least thirty stones have been recovered.
1912: The Holbrook meteorite fall happened on July 19, 1912, resulting int eh recovery of thousands of meteorites east of the City.
Source: Arizona State University's Center for Meteorite Studies
Follow Max Efrein on Twitter @mefrein, email him at mefrein@prescottaz.com or call him at 928-445-3333 ext. 1105.
More like this story
SUBMIT FEEDBACK
Click Below to:
This Week's Circulars
To view money-saving ads...