Prescott High School students taking a second year Japanese language course
About 20 learning to speak Japanese

By
Nanci Hutson
|
HutsonNanci
Originally Published: August 19, 2018 7:04 p.m.
Upcoming trip to Japan
In the summer of 2019, Prescott High School Japanese teacher Ayaka Komori will be leading an 11-day trip to Japan. Hour-long information sessions are scheduled at the school on Tuesday, Aug. 21, at 6 p.m. or Thursday, Aug. 23, at 6 p.m.
The all-inclusive tour with airfare can accommodate up to 48 students, parents and school personnel; students do not have to be enrolled in the Japanese class nor do attenders need to speak the language. The cost is $4,770 for students and an additional $550 for adults.
Highlights include three days in Tokyo, a visit to Hakone National Park with views of Mount Fuji, a bullet train ride to Japan's ancient capital Kyoto and a visit to the monumental city of Hiroshima.
The tour enrollment is slated for Aug. 31. For more information, call 1-800-655-5364 or email Komori at ayaka.komori@prescottschools.com.
With a blend of poise and humor, Prescott High School sophomore Teagan McPherson this week shared with a lively class of some 20 students a video presentation about her summer break — travel to a Chris Brown concert in San Diego, tasting nitrogen cereal and buying a Pokémon Bulbasar.
All in Japanese — her pronunciation applause worthy.
Teagan is one of about 20 sophomores, juniors and seniors taking the second year Japanese language course taught for the last five years by a native of Japan, Ayaka Komori, a course first introduced at the high school a decade by the new assistant principal Clark Tenney who spent 12 years of his educational career teaching Japanese at an international school in Tokyo.
She admits it is a very challenging course. Yet she enjoys it because it is offering her a broader world view even as it helps bolster her confidence as she speaks in what is a one-of-a-kind foreign language.
"It's really fun to be able to communicate with others in a no-so-easy language," Teagan said.
Opting to take the class in the first place was a bold step, Teagan said.
"I was petrified, to be honest," Teagan said of her first day in the first-year course as a freshman.
Komori's encouragement, and repetitive lessons, enabled her to learn pronunciation of the Japanese alphabet — there are actually three alphabets — so as to form words, sentences and phrases. She, too, embraced how Komori introduced them to Japanese calligraphy, an artistic formation of characters with an ink-dipped brush on paper.
Through this class, Teagan said she was able to overcome some of her shyness so as to be able to "express who I really am."
Her progress from knowing nothing to now being able to speak comfortably before an audience, and pen the complex characters that make up the written Japanese language, is a true accomplishment, she said.
"I can introduce myself to a complete stranger, say my name, my age, my grade and information about my family members as well," Teagan said with a broad smile.
Junior Emily Reber said she finds Japan to have a fascinating culture, and the language and alphabet is so unique, and difficult to acquire. She said she, too, appreciates the ability to take a course that is offered in very few other high schools across the state.
The United States Foreign Service Institute rates Japanese as the most difficult language in the world for native English speakers to master.
"It's a fun challenge," Emily said of the course.
Prescott High's foreign language program is composed of Spanish, French, German and Japanese.
Senior Jack Ramsay said he opted to take the course because he intends to pursue a doctorate in computer science and many of the high-tech companies are in Japan or Asia, as well as Japanese countries operating in the United States. From Komori's lessons, Ramsay said he has gleaned the ability to hold a conversation in Japanese.
This class is one where students need to adhere to the adage, "perfect practice makes perfect," Jack declared.
Beyond teaching the basics of the alphabet and lettering, Komori also strives to teach about Japan's rich history and evolution into what Tenney noted is one of the world's top economic superpowers.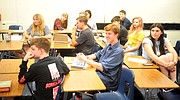 This summer, Komori will be hosting an 11-day trip to Japan, with Teagan and Emily eager to be among her student travelers. This will be the fourth such trip, the second for Komori who previously went as a chaperone.
"Learning about another culture helps us become well-rounded," Komori said. "The world is vast and amazing. Learning a language opens this world to you and can open your mind to the diversity of customs and ideas that exist in the world."
The study of Japanese also is a resume booster as it showcases that the individual is "an interesting and curious person."
In the immediate future, Komori said she wants to teach her students who plan to go on the trip enough conversational Japanese that they can find their way through a train station, order off a menu and have a conversation with the people they encounter as they tour her homeland.
To be able to take Japanese at Prescott High School is a way for students to "broaden their horizons," Tenney said.
Learning any foreign language is good for the brain and makes one a better student, he said.
The likelihood of a student becoming fluent in Japanese is unlikely, but exposure to the language, culture, economics, history, even cuisine and current lifestyle, is a worthy endeavor, Tenney said.
"If you plan to stay in Prescott for your whole life, it might not be so useful," Tenney said. "If your vision for the future goes beyond Prescott, then it can really take you places."
More like this story
SUBMIT FEEDBACK
Click Below to:
This Week's Circulars
To view money-saving ads...