Watch out for card skimming at the gas pump
77 skimmers found in Arizona so far this year

By
Max Efrein
|
mefrein
Originally Published: August 18, 2018 9:22 p.m.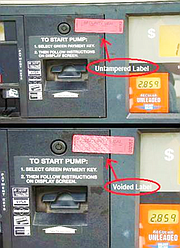 The number of credit card skimmers found attached to gas station pumps in Arizona so far this year is already well above the number seen in all of 2017 and is nearing the number from 2016.
Skimmers are illegal card readers attached to payment terminals. These card readers grab data off a credit or debit card's magnetic stripe without a consumer's knowledge. Criminals then sell the stolen data or use it to buy things online. Victims typically don't know their information has been stolen until they get their statement or an overdraft notice, according to the Federal Trade Commission (FTC).
As of Aug. 15, 77 skimmers were found at 58 different gas stations, according to the state's Weights and Measures Services Division, which regularly checks pumps and tracks findings. This compares to 57 skimmers at 48 sites in 2017 and 88 skimmers at 56 sites in 2016.
None of these findings have been in the Quad Cities, but that doesn't mean the growing rural area is immune to the trending scam.
"This has been a nationwide issue and it's really progressed over the last couple of years," said Michelle Wilson, associate director of the Weights and Measures Services Division. "We find them a lot of times off of major freeway corridors and the more metropolitan areas, but I wouldn't bet my life that we wouldn't find one in a rural area like Prescott."
Advancements in skimmer technology have also been seen recently. Older models required scammers to return to a gas pump after installing a skimmer and physically collect the data from the device.
"We also now see Bluetooth-enabled devices where they just drive within close proximity and they can download the numbers," Wilson said.
Some devices even send text messages to the scammers with the credit card numbers every time a transaction takes place, she said.
Ginny Lowe, who owns Woody's Food Store, an independently-owned gas station and convenience store chain with several locations in the Prescott area, said she's never seen a gas station scam quite like this in her 55 years in the industry.
None of her gas stations' pumps have been tampered with, but she tells all of her employees to look out for it.
"They're supposed to check the pumps every day," Lowe said.
Though consumers should be wary of the scam, Lowe believes it's really up to station owners to monitor the pumps regularly.
"The public really can't keep an eye out because they don't really know what they're looking at," Lowe said.
Nonetheless, the FTC provides the following tips to help consumers avoid skimmers when they gas up:
• Make sure the gas pump panel is closed and doesn't show signs of tampering. Many stations now put security seals over the cabinet panel. If the pump panel is opened, the label will read "void."
• Look at the card reader itself. Does it look different than other readers at the station? Try to wiggle the card reader before you put in your card. If it moves, report it to the attendant. Then use a different pump.
• If you use a debit card at the pump, run it as a credit card instead of entering a PIN. That way, the PIN is safe and the money isn't deducted immediately from your account.
• If you're really concerned about skimmers, pay inside rather than at the pump.
• Monitor your credit card and bank accounts regularly to spot unauthorized charges.
If your credit card has been compromised, the FTC recommends reporting it to your bank or card issuer. Federal law limits consumers' liability if their credit, ATM, or debit card is lost or stolen, but the liability coverage may depend on how quickly the loss or theft is reported.
More like this story
SUBMIT FEEDBACK
Click Below to: