Sold-out WineFest sees lots of repeat attendees
Pick and Pull a hit

Originally Published: August 18, 2018 8:31 p.m.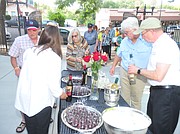 Sharlot Hall Museum's sixth annual WineFest, a sold-out event, on Saturday, Aug. 18, had a lot of repeat attendees, including Mary and Dave Reda.
"We loved it when we've been before," Mary Reda said. "We plan on doing it every time they have it. We really enjoy it, all the different vendors and the pairings."
About an hour into the start of Sharlot's WineFest, the two of them had pretty much hit up all the stations, but were making one more pass to see if there were any they missed.
They weren't the only returners, according to Museum Executive Director Fred Veil, who said he can't count the number of people he runs into saying they come every year and it's their favorite event.
"One lady I know said she tried to buy tickets before we had them on sale," Veil said. "I recognize a lot of people, a lot of people who don't typically come to the various events. They do come to this one."
Sharlot Hall Museum's WineFest is a special event for a lot of people, even for many in the Valley, he said, adding that there are people who come up who have called in advance just to ask when tickets go on sale and end up buying a group of them.
El Gato Azul was one of the event's nine food stations. Barry Barbe, El Gato Azul owner, said the restaurant was offering a fall Caprese with peach, fresh mozzarella, rosemary, basil and maple balsamic as well as shredded beef tostadas and Jamaican candied pork.
They were all pretty popular, but the Caprese seemed to be getting the most attention, Barbe said.
New to the WineFest this year was the Pick and Pull, where people could pay $20 and pick a bottle of wine. There were 60 bottles to start and 13 had already been chosen as of one hour in.
"It's a donation and it's a chance," said Karen Leja, who was manning the Pick and Pull area. "They might get a $150 bottle or they might get a $20 bottle."
It's all a mystery as to what they could get, said Shirley Swift, who was also helping. In fact, Swift said it was such an interesting idea that other organizations have expressed interest in capitalizing on it.
Photo Gallery
Sharlot Wine Fest 2018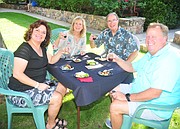 More like this story
SUBMIT FEEDBACK
Click Below to: