Originally Published: August 18, 2018 2:28 p.m.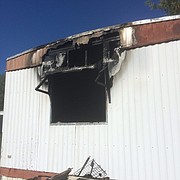 Several fire engines from the Central Arizona Fire & Medical Authority and one engine from the Prescott Fire Department responded to a structure fire in the 1500 block of Bottle Brush Drive in Chino Valley around 7 a.m. Saturday, Aug. 18.
Upon arrival, crews found heavy smoke coming from a mobile home and visible flames in the area of the home's water heater, according to CAFMA. They were able to quickly extinguish the fire, which was contained to one side of the residence, and conducted a search to confirm there were no occupants inside.
No injuries were reported and several personal items were salvaged.