Preview: Cougars hoping recent years of hard work pays off in 2018
Prep Football

Originally Published: August 18, 2018 9:45 p.m.
Skill positions are team's strengths going into the season, coach says
CHINO VALLEY — While the Chino Valley football team has gotten better and better in recent years — going 4-6 last year — this is the do or die season, said Cougars' head coach Wade Krug.
"This is going to be the season to determine whether or not the last four years we've been doing the right thing with the kids," Krug said. "Hopefully this will push us over the top."
For 2018, a core group of kids have worked hard since the end of last season, Krug said, calling them the solid rock for the team who everybody is going to rely on.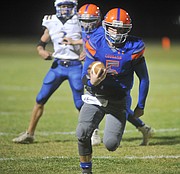 After all, no matter what you're doing you can always get better, he said.
Senior Michael Paulus has been on varsity since he was a freshman, is one of those players.
An all-around athlete, it doesn't matter where he's put whether it is quarterback, wide receiver, running back or defense, he's going to perform, Krug said.
Going into his final season, Paulus said it feels both good and bad, knowing it's going to be the last time he puts on the jersey as a Chino Valley Cougar and it is the last time he gets to work his hardest for the season.
Still, he said he's striving to be better than every year he's played at the high school and to be a better leader and example the team needs to be stronger, so they have their heads up for the rest of the season.
The Cougars' first game is against the Valley Christian Trojans at the Northern Arizona University Walkup Skydome at 1 p.m. Saturday, Aug. 25.
It's going to be really exciting to play there, Paulus said.
"I've played there one time in my first ever year of football, but going back there to play our first-ever game at NAU as a high school, it's just really exciting," Paulus said. "We'd love to kick off the season with a win there."
Another top player, Charlton Cornelius, is a senior defensive lineman who is ready to get the season started. "I'm excited even though it's my last," Cornelius said.
Krug also brought up Elijah Scordato, a wide receiver and defensive back who can be put just about anywhere, as well as Rudy Melendez, who the coach plans to lean on to lead the line offensively and defensively.
The team's strengths going into the season are its skill positions such as wide receivers, defensive backs, quarterbacks and running backs, Krug said.
"We're in that cycle where that's our really good group of kids," Krug said. "Countering that is our weak part ... probably offensive and defensive line. We graduated a ton of linemen last year and it's going to be kind of hard to fill those holes."
Last year, 12 seniors graduated, including three linebackers and three defensive lineman. However, the kids who have moved up from junior varsity and filled those positions are a good group, Krug added.
UP NEXT
The Cougars (0-0, 0-0 West) open the 2018 campaign in Week 2 against Valley Christian on the campus of NAU at the Walkup Skydome in Flagstaff. Chino Valley received a Week 1 bye. Kickoff at the Skydome is set for 1 p.m.
Jason Wheeler is a reporter for The Daily Courier. Follow him on Twitter at @PrescottWheels or reach him by email at jwheeler@prescottaz.com.
More like this story
SUBMIT FEEDBACK
Click Below to: