August 1918: Lt. Love under enemy fire for the first time
Alan Roesler, Special to the Courier
Originally Published: August 18, 2018 7:28 p.m.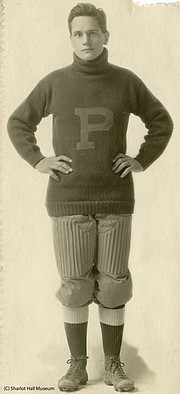 Ernest Love's 147th Aero Squadron, one of four 1st Pursuit Group squadrons, supported the French VI Armée counter-offensive that began between Soissons and Château Thierry, France on July 18, 1918. Upon arrival at his new squadron on July 24, based at Saints, he was assigned to 'A' Flight and Nieuport 28 N.6299 '7'. There were four other newcomers, including his squadron commander, 1st Lieut. James A. Meissner, having just been promoted and transferred from the 94th Aero Squadron that same day, as well as three other new pilots assigned to 'B' Flight two days earlier.
With so many newcomers and their principal opponent in this new sector being the German Fokker D.VII, arguably the best fighter of the war, the squadron countered with mass 14- and 15-plane operational patrols. Love had little time to acclimate himself to the front lines. His first three operational or combat patrols were flown in such massed formations on July 28 and 29. But then on his third patrol, the evening of the 29th, because of the approaching darkness, he landed at the French Francheville aerodrome first to get his bearings, before returning 45 minutes after the rest of his patrol had landed at Saints.
August 1 started with the American 32nd Division attacking Les Jomblets in the early morning, and Love flying a supporting low dawn patrol in his Nieuport. He was consequently heavily "archied," one German shell bursting right under his tail, with another one right in front of him. Flying at 1,800 to 3,000 feet over the front lines, he could see the flashes of the guns firing at him. He managed to zigzag about, kept changing altitude and scurried safely home anyway. His second patrol that same day was a protection patrol for a Salmson 2A2 photo reconnaissance plane.
After this excitement, the 147th Aero Squadron didn't make another operational patrol until Aug. 8. Meanwhile, the Allied advance had been so rapid that Saints was now 45 miles from the front lines, causing them to develop an advanced landing field at Coincy, a former base of the German Jagdgeschwader (fighter wing) 3 (comprising Jagdstaffeln (squadrons) 2, 26, 27 and 36). Love had to land at Coincy on Aug. 10 to refuel and fly a protection patrol for a French photo plane of Escadrille SPA285. All of his last five Nieuport 28 operational patrols were fairly routine for him, his 11th being flown on Aug. 13. This was the last time that Nieuport 28s were flown in combat by the U.S. Air Service.
When Love landed before noon, 17 new replacement Spad XIIIs were waiting for the squadron's pilots. On Aug. 14, the squadron ferried 10 of its remaining Nieuports back to the depot at Orly aerodrome, all of the Nieuports still serviceable, and returned with new Spads. The squadron was now fully equipped with Spad XIIIs and Love was assigned S.15221 '7'. August 16 was the first day that the squadron's pilots were able to test their new aircraft. Love was able to make a trial flight, as well as practice formation flying later that day.
His only August operational patrol over the front lines in a Spad XIII occurred on the 25th. With his assigned aircraft being unavailable, he flew S.15296 '6.' They departed Saints at 11:30 a.m. in good visibility, patrolling the front line at an altitude of 5,200 meters, following the Vesle River and the railroad line eastward between Fismes and Reims before returning to Saints at 1:30 p.m. The eight-man patrol became spread out, and 1st Lieut. Meissner later reported: "Just starting back from the lines, I was the highest man in the patrol when a Rumpler [a German two-seat observation aircraft] dove out of the sun at me. I turned toward it when it leveled off at 300 m above and started north. The remainder of the patrol was too far away to signal to, so I gave chase alone. We both climbed until I got above the Rumpler, at 5,200 m, when I dove and I got on its tail, firing a burst without effect. Pursued it about 8 kilometers across the lines, firing when possible, finally breaking off the combat at 3,500 m. Rumpler went on north."
Meissner fired 300 rounds at the fleeing Rumpler and "gave up the chase" when he started running low on fuel. Love, meanwhile, later reported not seeing anything. With no more patrols crossing the front lines in the month of August, perhaps this was a respite he needed for things to come in September. A target was set up in the center of the Touquin aerodrome as an aerial gunnery range, which the squadron utilized six of the last eight days of the month. On Aug. 28, it was Love's turn during his test flight, between 4:40 p.m. and 5:18 p.m., to test his Spad's machine guns there. However, he was able to fire only 92 rounds before both guns jammed, the right gun having stoppages due to stiff links and hard extraction of cartridges from the ammunition belt, while the left gun had a stoppage due to stiff links. Other pilots had similar results – of the 12 pilots who visited the range during 26 firing sessions over those six days, only four pilots successfully fired their guns without stoppages from a wide assortment of problems, emphasizing how important it was to check and properly maintain their guns.
On Aug. 30, the 1st Pursuit Group was relieved of its duties with the French VI Armée and began its move to Rembercourt aerodrome, back in the Toul sector where it had begun operations. However, the 147th Aero Squadron didn't begin their move to Rembercourt until Sept. 1. But more on that next month, as Love prepares for the St. Mihiel offensive of September 1918.
MORE
One-hundred years ago the world was embroiled in "The Great War" and the "War to End All Wars," and the United States was no exception. Communities across the nation gave up their sons to join the American Expeditionary Force (AEF) to help free Europe from the "monstrous" war that had seen the advent of terrible weapons and massive numbers of casualties.
One of the "weapons" that came into its own in that war was the airplane, and one of Prescott's native sons, Lt. Ernest A. Love found his way from Prescott High, to Stanford University and the ROTC program to become one of these early "Captains of the Sky" who were on the cusp of what would evolve into the modern aerial combat that we know today, which has forever changed the nature of warfare. The aircraft were new as were the tactics and pilots and each day brought extreme peril to those who had answered the call in this new and thrilling form of warfare.
Lt. Love lived and died in a brief span in this heady world of aerial combat, and the City of Prescott, Embry-Riddle Aeronautical University, the American Legion, VFW and others are recognizing his service and celebrating his life during a collective effort know as Lt. Ernest A. Love "days" during the first week of October 2018, culminating with an aerial combat demonstration during the airshow at the Prescott Airport on Oct. 6.
Today's is the first in a series of articles leading up to the 100th anniversary of Lt. Love's death. Watch The Daily Courier for more soon.
More like this story
SUBMIT FEEDBACK
Click Below to:
This Week's Circulars
To view money-saving ads...