In 30th year, standards haven't waned for 7-time national champion Roughriders
Junior College Soccer
By
Doug Cook
|
dougout_dc
Originally Published: August 18, 2018 9:52 p.m.
PRESCOTT — On the 30th anniversary of the Yavapai College men's soccer program this fall, the Roughriders will certainly attempt to replicate what they've achieved so many times in the past – win championships.
What's uncertain is whether Yavapai's freshman-dominated roster will possess both the goods and the requisite health to match 30th-year coach Mike Pantalione's impeccable standards.
Since 1990, the Roughriders have captured an unprecedented seven NJCAA national titles in a record 21 appearances among Division I junior colleges. They have also garnered a combined 70 Arizona Conference (ACCAC), region and district crowns since Pantalione established the stalwart program in Prescott in 1989.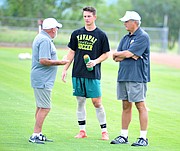 Yavapai, a 2017 national semifinalist that lost in overtime to eventual national champion Tyler (Texas) Junior College last November in Prescott Valley, will be tested right off the bat when it kicks off the 2018 season at 4:30 p.m. Thursday, Aug. 23, at league rival Phoenix College. The Roughriders will play their home opener at 2 p.m., Saturday, Aug. 25, versus Irvine Valley (California) at Ken Lindley Field as part of the college's 50th anniversary celebration.
"We're looking forward to that home opener, and hope we get a large contingent of fans at the game to support these guys," Pantalione said. "They're putting the work in when they can. There's times where we have to back off because of some of the setbacks we've had."
The Roughriders, who broke the national scoring record in 2017 with their superior passing in an up-tempo attack, carry six sophomores on their 26-player roster. Five of them, including attackers Jose Perez Flores and Angel Lujan, goalkeeper Tyler Trump, and defenders Jacob Downey and Andrew Rivera, played here as freshmen. Sophomore defender Gabriel Claudio of Yuma, who played football at Arizona Western College in 2017, is a newcomer.
Trump and Perez Flores said they're excited about Thursday's opener. In the NJCAA Division I Preseason Poll released last week, Yavapai's ranked No. 2, with conference archrival Pima C.C. at No. 4. Arizona Western and Phoenix received votes.
"It's a good gauge, actually," Perez Flores said of battling Phoenix first. "We're coming in saying, 'We need to get those 3 points [for a conference victory],' especially because we're playing away."
LEANING ON TRUMP, 'PEPSI'
Pantalione said his squad started preseason practices about a week later than the other conference teams, on Aug. 7, and that the rainy monsoon weather has hampered practice time. He added that he's concerned about the number of injured players he has at the moment, although he wouldn't elaborate on how many and who they are.
However, Pantalione did mention one of them, defender Miguel Rodriguez, who has returned to his hometown of Las Vegas to tend to his health concerns, which was unexpected.
"We're behind schedule in a lot of areas," Pantalione added. "We have a lot of work in front of us. The good news is that the postseason's not until mid-October."
Yavapai associate coach Hugh Bell said the team is "unequivocally a work in progress" because of the "melding of personalities" and different backgrounds. The roster has seven players from Arizona, five from Nevada, five from California, four from Oregon, two from Utah, two from Florida and one from New Zealand.
It's clear, though, that Perez Flores, one of the Roughriders' leading scorers in 2017 who was a junior college All-American as a freshman, and Trump, a phenomenal keeper, will lead this squad.
"Being the only freshman in the country to be named to the All-America team essentially says it all what he means to our squad and, in particular, to our passing game," Pantalione said of Perez Flores.
"Tyler wants to continue to put the work in, and he just wants to be the best he can be and play at a high level," Pantalione said of Trump. "Sometimes you have to slow him down and make sure he gets the proper rest and recovery."
Rivera and Downey are solid defensive players, too, Trump added.
"We have a disciplined [defensive] back line – a group of guys that is willing to listen and willing to accept criticism," he said. "We have players that are strong going into tackles, and we also have speed in the back. That definitely helps coming into this year."
TRUST THE PROCESS
Perez Flores and Trump said they both played Club ball over the summer to improve. While Perez Flores was training with Major League Soccer's Portland Timbers' Premier Development League (PDL) team, and later the Golden State Force in California, Trump went home to Utah to play for PDL's Ogden City Soccer Club (SC).
Although Perez Flores and Trump (not related to the president) likely could have transferred to four-year schools in the offseason, they instead chose to return to Yavapai for another crack at winning a national championship for Pantalione and the revered Bell.
"It comes down to a lot of trust in the coaching staff, and with the people that were on the team being leaders," Trump said. "We know how hard it can be to get to that stage, but we also know that we're capable of doing it."
Perez Flores, or "Pepsi," as he's affectionately known, said "experiencing hosting it [nationals in 2017]" was an "amazing" feeling and that he wants Yavapai to get back to nationals. This year, Daytona State College in Daytona Beach, Florida, will play host to the 12-team tournament from Nov. 12-17. Only one team from the West District, which encompasses 30 schools, will qualify.
"At the end of the day, it's a new year," Perez Flores added. "We have good players this year, too. So, we're excited to see what's coming."
Perez Flores said if the Roughriders "focus up" and "work as a team as we did last year" while pushing each other with "constructive criticism" that they will maintain their sights on nationals.
"Last year, going into the playoffs, we picked it up as a team and we had some good chemistry," Trump added. "We were having fun playing together.
"So far, it looks like all the guys like each other, so I think that will transfer onto the field. … Just hoping to make coach Mike proud, coach Hugh proud – bring an eighth national championship home."
More like this story
SUBMIT FEEDBACK
Click Below to:
This Week's Circulars
To view money-saving ads...