Trail of the Month: Badger Mountain Trail
The trail ties together sweeping views with forest terrain

By
Cindy Barks
|
Cindy_Barks
Originally Published: August 17, 2018 9:05 p.m.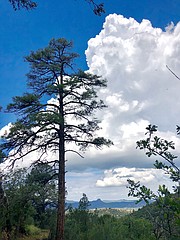 At virtually every turn on the newly rerouted Badger Mountain Trail, a stellar view of Thumb Butte, or downtown Prescott, or Granite Mountain is front and center.
That is no happy accident.
As is explained in the recently released documentary-style video, "The Birth of a Trail" (https://www.youtube.com/watch?v=wG3oYCIJrsw&feature=share), plenty of thought goes into finding the best views and other scenic features as local trails are being designed.
The 15-and-a-half-minute video, which was produced by Greg Reverdiau of the High-Altitude Training Institute of Prescott, takes viewers through the various steps of a new trail — from design to flagging to construction.
In explaining the genesis of trail's design, Prescott's Trails and Natural Parklands Coordinator Chris Hosking says he begins with a large photograph of the earth. Keeping the topography in mind, he then sketches what he thinks will be the best alignment for the trail.
"I may have gone out there and looked at the terrain," Hosking said. "I may have looked at a great view, or a cool tree, or a cool rock. And then I'm trying to link these anchor points together."
One of the goals of Reverdiau's video was to inform the community about the many hours of work that go into trail development, Hosking said, noting that "it's more than just scratching a line in the dirt."
Trail details
Length: 3.2 miles one-way
Difficulty: Moderate
Prominent features: Consistent and unobstructed views of Thumb Butte; rolling forest terrain
Why it's great right now: With recent monsoon storms, vegetation along the trail is lush, with multi-colored wildflowers along its edges
Reverdiau agrees. "I don't think people realize how much work goes into trail building," he said.
Along with maximizing the physical attributes, another important design factor is trying to anticipate what the variety of users want in a trail.
In most cases, Hosking said, hikers are looking for a view, while mountain bikers are looking for the "fun factor." Runners likely want a straight-line flow, while horseback riders are seeking the views, but also want a water source, if possible.
The goal of the trail is to satisfy as many of those desires as possible.
In addition, Hosking said, he tries to make the trail "as physically fun as it can be" — with a variety of grades, and not just a strenuous uphill.
He also factors in drainage, and how to avoid damage from runoff water. The result, he said, is a trail that goes "up and down, up and down, to evacuate the water off the surface."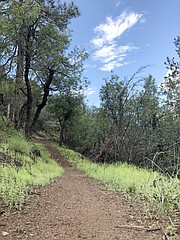 The Badger Mountain Trail is a prime example of all of those points.
It includes plenty of gradual up-and-down terrain, and passes through a number of lush forested areas. Perhaps its most prominent feature is the views it affords of the surrounding promontories.
Along with the information packed into the video is extensive scenic drone footage of the area. Reverdiau he set out to "highlight what Prescott has to offer."
As a runner, Reverdiau said he sees significant potential in Prescott's trails. He wants to spread the word that Prescott is "a great outdoors town" with a wide variety of trails, many of which are close to town.
Reverdiau estimates he spent about 20 hours following Hosking around during the design and construction of the Badger Mountain Trail.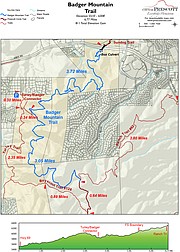 Construction work by Hosking and the Over the Hill Gang trail-building volunteers got underway in April 2017, and was complete by November.
The trail was intended as an alternative to the Turley and Boy Scout trails, which were previously part of the 55-mile Prescott Circle Trail. Hosking said the two trails "were really out of character with the Circle Trail," because of their steep and rocky terrain.
While both trails are still in place and available for use, the Circle Trail now follows the route of the rerouted Badger Mountain Trail, which links up with the Ranch Trail #62. The Badger Mountain Trail passes largely through Arizona State Land, and meets up with U.S. Forest Service land.
Hosking estimates that the new section of trail attracts 15,000 to 20,000 users a year.
Access to the Badger Mountain Trail is at the Turley Trailhead, 205 Wells Fargo Road, located off East Gurley Street, Overland Road, and Butterfield Road, http://www.prescott-az.gov/recreation-area/badger-mountain/.
More like this story
SUBMIT FEEDBACK
Click Below to:
This Week's Circulars
To view money-saving ads...