Badgers can't answer second-half spurt by Desert Edge in 40-17 loss
Prep Football

Originally Published: August 17, 2018 10:56 p.m.
Updated as of Friday, August 17, 2018 11:03 PM
PRESCOTT — Milton Rodgers had 30 carries for 186 yards and a touchdown, quarterback Adryan Lara threw for two more scores and Desert Edge outscored Prescott 14-0 in the second half in a 40-17 win Friday night.
Desert Edge (1-0, 0-0 West Valley) compiled 266 total yards on the ground against a Badger defense that wore down in the second half.
Photo Gallery
Prescott Vs Desert Edge Football 081718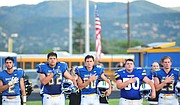 "My coach always tells me, 'When your number is called, you have to make a play.' So, he kept calling my number and I told him I have his back," Rodgers said on the field after the game.
The senior tail back is replacing Rocky Perez, who amassed more than 1,400 yards rushing in 2017 to go along with his 15 touchdowns. Perez graduated in May.
"Milton is our workhorse. We've been telling him all summer he was going to get his touches and tonight it showed, his conditioning, his hard work," Desert Edge head coach Jose Lucero said. "Thirty carries is no number to laugh at."
Rodgers said this is only the beginning for Desert Edge as he expects a deep run into the playoffs this fall.
"This is the perfect conference for us and we're going to be here awhile," Rodgers said. "We are the big dogs on the block right now."
Lara, a freshman for the Scorpions, completed just 5 of 16 passes for 90 yards but his two second-half touchdown passes, including a 51-yard strike to Keith Mckaney at the 11:36 mark in the fourth quarter, put the game away.
"It was a big for us coming up here. First off, hats off to that Prescott team, they came out and played their tales of. They have some really tough kids," Lucero said. "It was good for us to come up here, we got hit in the mouth a little bit, had some adversity, and it was a really good football game. I'm really proud of how our group played."
For Prescott, senior quarterback Austin Clark completed only 5 of 14 passes for 42 yards and threw an interception. On the ground, Clark ran 15 times for 81 yards and a touchdown. His 10-yard score with 11:54 to go in the second quarter brought the Badgers within a score at 12-7.
Prescott (0-1, 0-0 Grand Canyon) made it an 18-14 game after Sam Giordan scored on a 14-yard touchdown run with 5:36 to play in the first half.
But the Scorpions responded when Jihad Marks returned the ensuing kickoff 87 yards for a touchdown, giving his club a 26-14 lead.
Desert Edge never trailed in the contest.
"Hats off to Desert Edge. What a big, strong, well-coached physical football team," Prescott head coach Michael Gilpin said. "But I have to say, I was extremely proud of our guys, because that's the most physical team on our schedule. Every guy that marched down on the field battled the entire game and they marched right back off."
All 17 of the Badgers' points came in the second quarter.
Prescott seemed to grab the momentum on their first possession of the game after Clark found Ruiz on a broken play in the Badgers' own end zone for a miracle 83-yard completion before Ruiz was talked at the 2-yard line.
But an inadvertent whistle brought the ball back, Prescott was forced to punt and the Scorpions immediately scored to turn the game in their favor.
"You know, the refs are human too, but that was a tough one," Gilpin said.
UP NEXT
The Badgers will hit the road next week and play Canyon del Oro in Tucson on Friday, Aug. 24. Kickoff is set for 7 p.m.
Brian M. Bergner Jr. is sports editor for The Daily Courier. Follow him on Twitter and Instagram at @SportsWriter52 or on Facebook at @SportsAboveTheFold. Email bbergner@prescottaz.com or call 928-445-3333, ext. 1106.
More like this story
SUBMIT FEEDBACK
Click Below to:
This Week's Circulars
To view money-saving ads...