#RedForEd a sleeping giant — the movement now focused on long-term funding solutions

By
Nanci Hutson
|
HutsonNanci
Originally Published: August 16, 2018 8:57 p.m.
Top 5 #RedForEd demands
Still on the front burner for educators and their advocates
1 – 20 percent raises for all teachers and certified education personnel over the course of three years.
2- Competitive wages for all support personnel — pay that is comparable and competitive to similar jobs in the local market.
3 – Restore school funding to 2008 levels — a restoration of at least $1 billion lost since the recession; decrease class sizes to ratios of no more than 23:1.
4- No new tax cuts until Arizona's per-pupil spending reaches the national average — reapportionment of tax revenue should not target social service progams that benefit the most vulnerable; tax revenue should be generated from long-term sources through the state general economy.
5- Beyond 2020, annual increases until Arizona teacher salaries reach the national average — Arizona's average is now about $48,000 and the national average is upward of $58,000. Alaska has the highest average salary at about $85,000.
The bright red T-shirts are now folded in a chest of drawers. The banners are hidden inside garages. Bumpers stickers still adorn hundreds of cars, but sightings tend to be more sporadic.
Arizona's #RedForEd movement seems to have faded from sight — or at least taken a backseat to other pressing back-to-school educational concerns, such as parent nights, library time and math lessons.
What has not faded is the Arizona education community's passion for ensuring classroom teachers and support staff are treated as valued professionals. They, too, remain steadfast about imploring state lawmakers to prioritize funding to assure academic success is attainable for all students in all places, according to state and area educator officials.
"We still need to make sure students have all the opportunities they need to be successful," declared Joe Thomas, president of the Arizona Education Association.
Thomas and the association rallied side-by-side with the architects of the #RedForEd movement, Arizona Educators United, during rallies this past spring that climaxed with a gubernatorial promise to hike teacher pay by 20 percent by the year 2020. Arizona Educators United is a grassroots effort launched by teachers, administrators, support staff, parents, and other education advocates across the state.
Beyond salaries, though, educators across the state listed other demands yet to be realized. A key component is a long-range plan for funding steady salary increases over time for all educational personnel, limiting class sizes, technology upgrades, building maintenance and up-to-date textbooks and curriculum. (See sidebar on the Invest in Ed ballot initiative).
Prescott High School French teacher Cathleen Cherry, one of the local #Red4Ed liaisons, said the first-year salary hikes — in Prescott that meant an 11 percent salary hike for teachers, 10 to 20 percent for support personnel depending on minimum wage requirements, and 5 percent for administrators — are simply the tip of the academic iceberg.
"It's not done," Cherry said of the movement that awakened a sleeping giant such that strides were made but there is considerably more "that still needs to happen." She added, "#RedForEd was never just about teacher salaries."
Messages left for several other area district liaisons were not returned.
"Nobody wanted to have to walk out … They (teachers) love their jobs and they want to be in the classroom with students," said Thomas, a former 17-year social studies teacher.
Yet when polite, behind-the-scene efforts to reach out to the governor and lawmakers were rebuffed, Thomas said the educational community was left with no other choice.
"When they ignore us, they ignore our students," Thomas said. "And it just got to the point that educators said, 'No more.'"
Yavapai County Schools Superintendent Tim Carter, a 40-year educator and former president of the state Board of Education, said #RedForEd proved a pivotal event in Arizona's educational history.
"So I hope they understand the significance of what they've done," Carter said of the more than 70 percent of educators across the state that participated in walk-ins and walk-outs last spring.
Like other educational leaders, though, Carter is less sure about the next step. To Carter, the key to this movement is finding a long-term funding source that is not immune to the political whims of the day.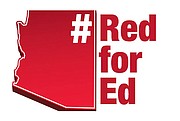 RedForEd "empowered a lot of teachers," said Prescott parent and education advocate JoAnn Chaffeur. "They need to be in full force in our state every single day."
Prescott Unified District Superintendent Joe Howard concurs.
"In April, we woke a sleeping giant," Howard said. "I think that giant can be woken again if we don't get serious about funding education.
"I heard the #RedForEd teachers. They're not going to stop, not until we are at the median in the nation, and there is respect in Arizona for the profession and what we do for students."
Related Stories
More like this story
SUBMIT FEEDBACK
Click Below to:
This Week's Circulars
To view money-saving ads...