Book review: Cave of Bones, A Leaphorn, Chee & Manuelito Novel, by Anne Hillerman
Originally Published: August 16, 2018 7:39 p.m.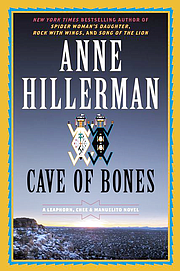 Cave of Bones is the fourth novel by Tony Hillerman's daughter, Anne Hillerman, and like her first three (Spider Woman's Daughter, Rock with Wings, and Song of the Lion) has become another New York Times bestseller.
The mystery begins when Officer Bernadette Manuelito goes out to the badlands lava flow in New Mexico to speak to a group of at-risk teens. She arrives to find that one of the teens has returned late from her solo, traumatized from discovering a human skeleton in a lava cave – and the instructor who was sent out to find the girl seems to have disappeared from the planet. Throw in a blizzard and a suspicious drowning and the officer has her hands full.
Meanwhile, her husband, Sgt. Jim Chee, has his own problems to solve in Santa Fe, one of them hitting close to home and involving Bernadette's own sister becoming involved with a vengeful man who the Sergeant had once sent to prison for domestic violence.
Hillerman has updated the Navajo home ground and culture that was the context for her father's work. Although the mysteries continue to take place amid the traditions and rituals of Navajo cultural beliefs, they take place in the culture as it exists today, which has undergone many changes since her famous father's death. Important things remain the same: the traditional Sergeant Jim Chee is still out there solving cases, but a significant update is that his wife, Officer Bernadette Manuelito, is a main if not the main voice of the novels. To be sure, retired Lieutenant Joe Leaphorn still steps back in to help the other two Tribal Police officers with his vast expertise and many connections that help Jim and Bernie solve their mysteries. Most importantly, all three tribal police certainly provide readers with more than enough clues to deepen the complex mysteries that Hillerman brings to her gripping and atmospheric crime series.
Reviewed by Susan Lang, Peregrine Book Company Event Coordinator.
Notable Books: August
Open Me, by Lisa Locascio is "a plunge into the murky, unexplored depths of sexuality and xenophobia, Open Me is the most beautifully written new novel I've read in years. Gripped from the start by its spare, rich, exacting prose, I was pulled through the pages in the thrall of 18-year-old Roxana's discovery of her own body, its burning, complex urges, its capacity for ecstasy and erasure, for knowledge and dream. Locascio's unflinching frankness about female desire is not just refreshing, it is vital for our time." — Michaela Carter, author of Further Out Than You Thought.
Publisher's Weekly's starred review of Michael Orenduff's The Pot Thief Who Studied Edward Abbey, reminds readers of the author's success in again combining "humor and homicide in his superb eighth Pot Thief whodunit." Orenduff's satire of "politics and political correctness in the service of a fair-play plot" is helped by the contrast of his part-time investigator's own unapologetic unearthing of ancient Native American pottery that he sells in his Albuquerque store (which is another story in itself). In this book, Hubie Schuze has been offered a position at the University of New Mexico, which he decides to accept. He quickly becomes invested in the thankless task of connecting with "device-addicted" Millennials. While he dodges bullets that come as a result of this as well as from a sexual harassment claim from that a student he turned down when she offered to sleep with him for a better grade, he suddenly becomes a murder suspect when one of his other students is found dead inside a plaster cast.
In the Droom, by Heitham Al-Sayed is a mindbending work of magical fiction — part nouveau roman, part out of body experience — in which multiple realities appear to overlap in a fevered dream state. "Al-Sayed's malfunctioning mist of multiple realities, pour in through a crack in the wall to cover stuff that doesn't really belong to you," the cover proclaims about this trippy book. The novel is a staff pick by the Peregrine's David, who says its setting is in "a shifting yet familiar subterranean, subconscious reality." It can be a treat for those readers who like a quantum mind challenge.
The World Beyond, by Parker Anderson ~ Arizona historian Parker Anderson pays tribute to KPHO's long-running program (1964-88), The World Beyond, which featured old-time science fiction, horror, and monster movies, and introduced Arizona children to Godzilla among many other cinematic creatures. Drawing on research conducted by Logan Blackwell, Parker Anderson follows the history of The World Beyond with background data and a complete list of movies shown on the program, as well as with reproductions of vintage ads for the show that appeared in Arizona periodicals. Wallace and Ladmo make an appearance and the book has a foreword by retired KPHO announcer Stu Tracy, whose dramatic "Join us now…" introductions were an inseparable part of The World Beyond. For lifelong Arizona residents, this book is a sweetly nostalgic trip down "memory lane."
More like this story
SUBMIT FEEDBACK
Click Below to: