By
Max Efrein
|
mefrein
Originally Published: August 15, 2018 5:46 p.m.
Updated as of Thursday, August 16, 2018 9:20 PM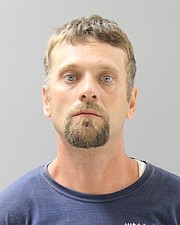 Following reports of a hit and run in Prescott Valley Wednesday afternoon, Aug. 15, officers with the Prescott Valley Police Department (PVPD) were able to track a suspect to his residence in Dewey with the help of witnesses.
At about 1:30 p.m., the suspect – later identified as James Kessel, 35 – allegedly collided with another vehicle on Navajo Drive and then left the scene of the accident (hit and run), according to PVPD spokesman James Risinger.

"A witness stated that Kessel did not stop or slow down after the collision, but left the scene at a high rate of speed," Risinger said.
Using witness accounts – including someone who followed Kessel after the collision – officers found Kessel's home in the 10000 block of Buckskin Dr., located in the Prescott Country Club community in Dewey, Risinger said.
Initial reports indicated Kessel didn't respond to officers calling what they believed to be his name. Deputies with the Yavapai County Sheriff's Office responded to the scene as well and described it as a "hostile situation." About seven law enforcement vehicles were surrounding the home at 2:30 p.m., with deputies patrolling the property.
"That was more of a safety precaution in case it turned into a hostile situation based on [Kessel's] erratic behavior," Risinger said.
It turned out the officers were not calling the correct name, Risinger said. Kessel had been driving his father's white Ford Explorer, so the vehicle was registered under a different name. When Kessel did finally respond to the police presence, he admitted to being involved in a collision and fleeing from the accident, Risinger said. He also admitted to drinking before the accident and having a suspended license.
Kessel was booked into the Yavapai County jail on charges of felony aggravated DUI, reckless driving, endangerment, failure to remain at accident and criminal damage.
Risinger credits the public for how quickly the matter was addressed.

"The majority of hit and run accidents are difficult to solve without assistance from the community," he said. "The Prescott Valley community came forward and provided critical information to officers, which lead to the arrest."
Follow Max Efrein on Twitter @mefrein, email him at mefrein@prescottaz.com or call him at 928-445-3333 ext. 1105.
More like this story
SUBMIT FEEDBACK
Click Below to:
This Week's Circulars
To view money-saving ads...