Local quilters decorate library's community room
Cost paid for by Friends of the Chino Valley Public Library

Originally Published: August 14, 2018 8:39 p.m.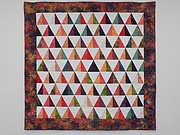 The Chino Valley Public Library Community Room – once plain-looking with echoes constantly reverberating off the walls, it now has quilts decorating said walls helping to absorb the sound.
Chino Valley Public Library Youth Services Library Manager Darlene Westcott said she went to Pam Kidd, a member of the Chino Valley Quilters, to see if they could get quilts for that room because of its plainness and how it echoed.
"She's a go-getter," Westcott said, adding Kidd "took it to the group and asked if they'd be willing to do that."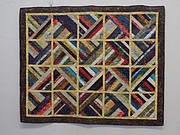 The community room is where nearly all of the library's programs are held, such as most of the events that were a part of the summer reading program and story times.
Though there's quilts along the side walls and in the front of the room, there is not yet one against the back wall. However, the plan is to use material from each of those quilts to make a long one that will fit across the back wall, Westcott said.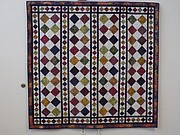 Kidd says she was approached about the idea to put quilts in the room a while back, but the project got put on hold because of a show the guild was preparing for. They're up now though and they are in a traditional style, she said.
"The first one we made was the one at the very end of the room, the largest one," Kidd said. "We made the other ones to just kind of blend in with that one. Everybody picked the pattern they wanted to make."
Additionally, the Friends of the Chino Valley Public Library paid for the costs of the quilts, Kidd said. With them paying for it and the guild quilting them, it was truly a hometown project, she said.
The quilts have also made quite a difference from before, helping with how the room looks and with making it so less sound bounces off the walls, Westcott said. It was definitely a labor of love, Kidd said.
"There's a lot of love in that room," she said. "It's just a nice way to support the library and it makes it more personable."

The Chino Valley Public Library is located at 1020 W. Palomino Road.
More like this story
SUBMIT FEEDBACK
Click Below to:
This Week's Circulars
To view money-saving ads...