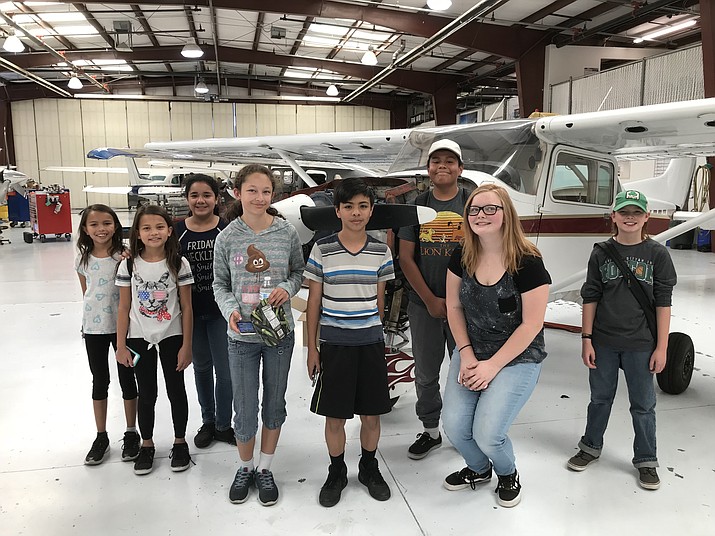 Originally Published: August 14, 2018 7:15 p.m.
Prescott Valley School hosted its first ever STEM (science, technology, engineering, math) Summer Camp. Seventeen students in grades 4-9 attended the camp, which took place from June 12 to June 28, and focused on three units of study: fossils, forensic science, and flight.
The students also participated in a number of field trips during the camp, including the Prescott Valley Police Department to talk with a detective and an evidence collection team, and to Highlands Center for Natural History in Prescott.
The inaugural STEM Summer Camp was definitely a success for both students and staff, said Alison Stanton, PV Schools public affairs. Students from Mayer, Chino Valley, Dewey and Prescott Valley participated in the camp.
STEM club advisor Lina Lett said she and advisor Danielle Marson created classroom lessons to correspond with field trips so students could see how the information and skills they learned in the classroom are used in real life.
"Students also completed STEM building challenges, which required collaboration, and featured certain limitations so they were able to think more creatively," Lett said.
Students began camp with a career scavenger hunt to learn about some of the many STEM careers, education requirements, and average compensation in each field.
During the field trip to the Highlands Center for Natural History in Prescott, students took a geology walk with one of the experts, collected and analyzed data, and visited Pangea, Land of the Dinosaurs.
"Students learned that there are many STEM careers, and that the work they are doing now in school will take them in the direction of what they want to do when they grow up," Lett said. "Education at the middle grade level can sometimes feel disconnected from the real world. Thanks to this camp and the field trips, we were able to see that what the students are working on now sets a foundation for the work they do later."
Prescott Valley School is an AdvancED accredited K-12 public charter school in Prescott Valley. For more information, visit www.prescottvalleyschools.com.