BASIS tops them all in AZMerit testing

By
Nanci Hutson
|
HutsonNanci
Originally Published: August 13, 2018 10:02 p.m.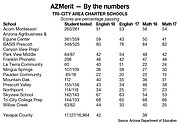 The AZMerit score results in language arts and math for 14 tri-city area charter schools showed a strong performance for most of the schools, with BASIS Prescott earning the highest scores that reflected progress from the prior year's scores.
Of the 548 BASIS Prescott students taking the language arts test, 80 percent passed the test that is scored based on a four-tier system of minimally proficient, partially proficient, proficient and highly proficient — only students who score in the top two categories have passed the test.
The two other highest scoring schools in the region were Tri-City College Prep and Skyview School in Prescott. Sixty-eight percent of Tri-City's 144 students taking the language arts test passed; the same percent of 133 taking the math test earned a passing score. At Skyview, 67 percent of 142 students taking the language arts test passed; 54 percent of 143 students passed the math portion.
Ten of the 14 schools saw increases in student performance over the prior year; only two schools showed significant dips in scores, with a couple also showing a mixed performance. (See graph for detailed scores for the 14 charter schools listed in the chart). Eight schools performed above the state average.
Tri-City College Prep founder and Superintendent Mary Ellen Halvorson said she can appreciate the mixed reviews that come with standardized tests, particularly as the interpretation can be easily skewed so that true student progress and success is not properly measured.
Like some district schools, Tri-City Prep next year will be opting to use a college preparatory exam rather than the AZMerit test, a new option the state is offering for high school students. The rationale for Tri-City's choice is that the testing will prove more beneficial to students as colleges accept the results as part of their academic application process.
As for the most recent test results, Halvorson is satisfied with her school's overall performance, but again prefers to focus on classroom instruction that help students accomplish their individual academic goals.
The AZMerit tests results routinely lead to comparisons between charter schools and district schools, with district educators bristling over those comparisons because charters typically are smaller and can focus on a particular education style or program. District schools are larger, and by design must have a wide breadth of programming as it is obligated to offer instruction to the majority of students in any given demographic.
Using her school as an example, Halvorson said all of the students who apply, even those who may have a learning disability, agree to follow a college preparatory curriculum. The aim is to assure that all of the students who come to them are prepared to be accepted into college upon graduation, she said.
In the "apples to oranges" notion between charter and district schools, Halvorson said she sees it as a comparison between "individual fruits and a fruit bowl."
The good news across the state is that over the last four years, since the implementation of the AZMerit test, charters and districts both have seen improvement; and charters continue to outpace that growth with ethnically diverse students outpacing their peers in their test scores, declared Arizona Charter Schools Association President and Chief Executive Officer Eileen Sigmund.
"It's a positive story, overall," Sigmund said. "We know we have work to do, but we're trending where we should be."
In the last four years of this test, Sigmund noted that charter schools have seen steady growth with their student performance. The majority of scores are higher than the state averages of 44 percent passing the language arts tests and 41 percent passing the math test.
She, too, noted the stakes for these tests are higher for charters because their sole existence depends on academic performance.
"Our charter schools have higher accountability because we're required to show we're improving student achievement, and providing communities with a choice," Sigmund said, noting that a school can lose a charter if they are not meeting the state's academic standards. "That is why charters were created. We must show that students are academically performing in our schools."
Follow Nanci Hutson on Twitter @HutsonNanci. Reach her at 928-445-3333 ext. 2041.
More like this story
SUBMIT FEEDBACK
Click Below to: