Female motorist saved during swift water rescue in Humboldt
Originally Published: August 12, 2018 7:41 p.m.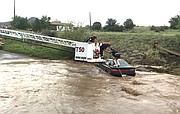 An unidentified woman was rescued Sunday evening, Aug. 12, after the car she was driving became trapped by a torrent of water at a river crossing in Humboldt, the Central Arizona Fire & Medical Authority (CAFMA) said.
The incident was reported shortly after 6 p.m. on Prescott Street. The woman apparently was able to make iit atop her car prior to being rescued.
"CAFMA crews just performed a swift water rescue in Humboldt on Prescott (Street) at the Agua Fria River crossing. The line occupant was sent a vest and secured to a rope by crews until the truck company was used to pick her up from the car," the fire and medical authority said in a Facebook post shortly before 7 p.m. Sunday.
"The occupant's dog was also on the vehicle when crews arrived but jumped off on his own and made it safely to shore."
Two fire engines, one truck company, one battalion chief, and one support unit responded to the scene of the incident.
The swift-water rescue prompted some words of caution from CAFMA about the dangers people can face at such crossings.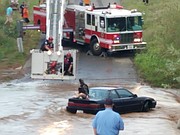 "We want to remind everyone to obey the signage at these crossings and DO NOT attempt to cross if flooded. Turn around, don't drown!"
More like this story
SUBMIT FEEDBACK
Click Below to: