Toastmasters 'life-affirming' approach conquers stage fright, develops confident leaders

By
Nanci Hutson
|
HutsonNanci
Originally Published: August 11, 2018 4:06 p.m.
Toastmasters Club meetings
• Toastmasters Club 104 meets every Tuesday at 6 a.m. at the Unity Church of Prescott, 145 Arizona St.
• The High Noon Prescott Toastmasters Club meets from noon to 1:15 p.m. every Wednesday at the
AZTLAN Masonic Lodge, third floor, at 1028 Willow Creek Road.
• The Prescott Valley Toastmasters Club meets every Wednesday from 6:30 to 7:30 a.m. at the Hampton Inn on North Glassford Hill Road.
If you would prefer to run naked down the street rather than stand still behind a podium in front of strange faces — and your job or college major demand you do so — there are folks who gather just after dawn every Tuesday who will quell your fears so you don't become the latest social media spectacle.
In fact, if you opt to get up that early, these good-humored, confidence-building folks will supply you with coffee and snacks, and expand your vocabulary: this past week it was the adjective "doolally." Never heard it before — they will teach you how to incorporate the British word for a delusional outburst in everyday conversation.
At the Toastmasters Club 104, an 80-year-old Prescott chapter of the international leadership and public speaking organization, business professionals, college students, retirees, and at least one grammar expert, perfect their storytelling and leadership skills in a fun, and informative atmosphere. Each week, a couple group members are invited to speak and then two others evaluate their delivery — the critiques are not barbs, but rather friendly encouragement mixed with advice to enhance audience engagement.
On this particular morning, member Mark Murphy gave a talk on the reason folks still need superheroes. He shared the history behind comics and their creators, and how those morphed into the still beloved comic figures such as Superman, Batman, Spiderman, Thor, and more.
In sometimes whispery tones, the retired educator shared some secrets behind the creation of some of these characters. He became more animated as he talked of the continued popularity, citing the recent Prescott Valley Fandomania that attracted some 2,500 people to the library.
His presentation won accolades, with evaluator David Eagle noting his talk evoked more questions about the comic phenomenon. In the future, he suggested Murphy might want to share some of the comic books he has in his own collection as a prop.
Fellow speaker Doug Thompson, a 24-year club member, did a shorter presentation on his leadership journey. In quick order, Thompson invited audience participation. He asked his listeners by name about their own leadership styles.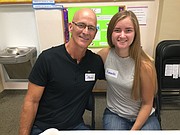 Thompson credited Toastmasters for his ability to be an effective communicator, noting his discovery that the best way to be a leader is to enable others to be leaders.
Thompson's speech resonated with the 18 people in the room, earning him the Best Speaker award. His evaluator, Kelli Bradstreet, selected as the Best Evaluator, lauded Thompson as a role model. She said he relied on strong imagery to show he went from someone who was shy and lacking confidence to someone able to deliver a "platter" full of leadership advice. Her piece of advice: add an anecdote that specifically identifies his leadership style.
As a warm up to the actual speeches, other members and guests were invited to participate in "table talk," responses to random topics. The challenge: to inject the word of the day into all of the answers. Six-year member Ty Freedman won the "Best Table Talk" award.
One of the guests, Amanda Timmons, a junior majoring in engineering at Point Loma Nazarene University in San Diego, said she suffers from public speaking anxiety. The club meetings have proved a "safe place" to practice stepping out of her comfort zone; she attended the meeting with her father, Steven.
After the almost two-hour meeting, Freedman admits when he first joined he suffered from severe "stage fright." A former youth minister, Freedman is now in real estate.
Though he is no longer afraid to stand up and speak, Freedman said he keeps coming back because of the affirmation of fellow members who always teach him something new.
"Just showing up is so life-affirming," Freedman said.
Club President Frank Lopez concurred: "You definitely find your voice at Toastmasters."
More like this story
SUBMIT FEEDBACK
Click Below to:
This Week's Circulars
To view money-saving ads...