Dewey-Humboldt candidates want 'country town' to remain
Dewey-Humboldt Town Council candidate Karen Brooks complimented the audience of about 80 at Thursday's candidate forum for being informed about the issues facing the town.
All questions posed to the two mayoral candidates and five council candidates came from those present at the two-hour forum. They had one minute to answer each question.
Yavapai County Supervisor Tom Thurman sponsored the Aug. 9 event and worked the sound system, and Sandra Goodwin moderated the event, presented by the League of Women Voters of Central Yavapai.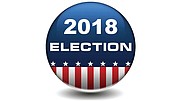 Candidates running for election in Dewey-Humboldt
Mayor:
Terry Nolan (incumbent)
Victoria Wendt (council member, challenger)
Council (3 seats):
Karen Brooks (challenger)
Lynn Collins (challenger)
Mark McBrady (incumbent)
Doug Treadway (incumbent)
Nancy Wright (challenger)
Candidates, in response to almost every question, returned again and again to their desire to keep the town rural with little or no growth. Yet, they also spoke to careful, controlled commercial growth to increase town revenues.
NEW BUSINESS
One question centered on what candidates would do to recruit new commercial business in town, and another how to increase the town's income.
"Any new business would have to be in keeping in what the community is all about," said Doug Treadway, council incumbent. He said one such enterprise might be vineyards, a clean industry that uses little water.
Candidate for mayor and current council member Victoria Wendt said she would be more proactive, and also that businesses must fit within the community. She said the lack of infrastructure in the way of water and sewer is something that holds back new development. She would keep the commercially zoned land the same, or increase it, in the General Plan. She would encourage tourism and would support an RV park.
Former council member Nancy Wright, who is running for council, said she wasn't sure it is the council's role in government to bring in new development. "When we have enough growth, they (businesses) will come in," she said. Right now, the town does not have the population to support new businesses. She is opposed to tax increases.
Council challenger Karen Brooks, in her opening remarks, said, "I'm for keeping Dewey-Humboldt as it is and what it was when you bought and lived here." She cited reduced funding from federal and state sources to support growth, and said she wants to keep the rural lifestyle and "grow carefully and progressively." She thought the town might support a trade school and suggested one for air conditioning.
Lynn Collins, a challenger for council, said she thinks the town is overregulated. She wants to see new zoning codes that would be more welcoming to businesses. The present code is confusing at times and a "risky process for those coming in," she said. She would like to see equestrian-based parks for tourists to enjoy.
Incumbent council member Mark McBrady said he does not think the town has to recruit anyone. He wants to preserve the rural character and work to make it friendlier to the public. "People will come in. We need new ideas. Get the word out to churches, I guess," he said. He wants to promote the unique history of the town.
Mayor Terry Nolan, who is seeking another term, said the town needs more growth and businesses, and he would like to see a grocery store, pharmacy or bank. "I see nothing wrong with that." He suggested, with a laugh, the town give everyone a $100 bill.
TOWN CODES
A hot-button question for some candidates led off the forum, asking who defines what a nuisance is — the community, the town or the judge? The council has struggled off and on with its ordinances and code enforcement for years.
Collins said a nuisance code is a back door to a property maintenance code, which the town doesn't have. "So there's an old car that belongs to Dad. He has the right to his memories," she said.
McBrady wants the public to be more involved. "Somebody's nuisance is somebody else's artwork," he said.
Noland said the council recently tabled a review of the issue, so there is no reason to discuss it.
Treadway defined the word, saying a nuisance is something that affects the health, safety and welfare of residents, and mentioned the recent news about a compound in New Mexico with 11 malnourished children. "That's a nuisance," he said. "The code doesn't have to be a bad thing at all."
The code should be acceptable to the community as a whole, said Wendt, who doesn't want to keep passing the issue to the next council time after time.
Wright reiterated that the code is strictly for health and safety issues.
Brooks, in her opening remarks, mentioned work on the abatement code and said, "Now is the time to be very vigilant." She would like a panel of experts to make decisions — an agricultural expert to rule on animal code violations, for instance. "No one person should have the power," she said.
HELI-SWIFT PERMIT
The proposed helicopter school use permit generated support from some and opposition from others. The town will schedule a future demonstration with Heli-Swift, and residents will be able to determine noise and dust levels, two concerns that have been raised.
Treadway said the property is zoned commercial, and if the company can abide by noise levels with which all residents must comply, he supports the council's approval of a use permit.
Wendt said she doesn't think the business fits well in the community. She will keep an open mind, but has safety and noise concerns.
Wright is in favor of having the school and business in town if it passes the noise test.
Brooks wants the school located near the airport, as does Collins who cited injuries to horses from the noise. "It's not appropriate close to the freeway where it can distract drivers," she said.
McBrady said he knocked on nearby residents' doors and let them know they would have to hear the demonstration for themselves.
Other topics included emergency access out of the Blue Hills, conversion of private roads to town roads, speed enforcement, the General Plan, and long-term plans for the Superfund site.
The last day to vote is Aug. 28.
More like this story
SUBMIT FEEDBACK
Click Below to: