Beer, tunes flow to benefit Boys & Girls Clubs
VIP experience a good setup, says attendee

Originally Published: August 11, 2018 8:21 p.m.
As music from The Instant Classics filled the air, Eric Hatchell and Kris Little were enjoying a couple beers from Wild Tonic, while on the Mile High Middle School athletic field for this year's Mile High Brewfest Saturday, Aug. 11.
The two of them were there for some end of summer fun, Little said. Hatchell noted that though they had just gotten to the event, it had been good so far. Hatchell had a Blueberry Basil, which he said was decent and Little was drinking the Mango Ginger beer.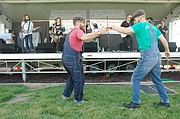 "They're both very good," she said. "The flavors are very strong."
The event serves as a fundraiser to benefit the Boys & Girls Clubs of Central Arizona, and this year's Mile High Brewfest was the first time the organization put together a "VIP Glamp-Out," which included exclusive tastings from Roger Clyne's Mexican Moonshine Tequila and Superstition Meadery, barbecue from Montana Bar-BQ, a commemorative glass and a build-your-own s'mores bar.
Kenny Schultz, Ken Van Keuren and Marlene Van Keuren were all enjoying the VIP tent with Schultz noting he came to the Mile High Brewfest because he's a beer connoisseur. Additionally, Ken Van Keuren said he likes supporting brewers. They were all enjoying the VIP experience.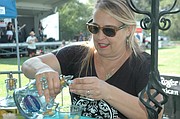 "I like it a lot," said Ken Van Keuren. "It's a good setup."
Those who purchased VIP tickets were able to attend the event an hour earlier than those with general admission tickets.
Among the breweries at the event was Prescott Brewing Company, which had its Liquid Amber, Achocolypse, Palate Stomper and Summertime Kolsch on tap. Lead Brewer Jan Brown said he expected the popularity of the Achocolypse, a chocolate porter, to make it their most popular brew at the Brewfest, noting it's the most popular beer they sell.
Even when it was fairly early into the Brewfest's opening, organizer Molly Fernow said she was expecting there to be quite a lot of people, though she did say attendance was capped at 1,500.
"It's so fun," Fernow said. "We're probably going to be between 1,200 and 1,500 people."
Prior to the event, Fernow said the goal was to raise $30,000 for the Boys & Girls Clubs. Watch the Courier for an update, once the proceeds are tallied.
More like this story
SUBMIT FEEDBACK
Click Below to: