Preview: Badgers aim to break 6-year playoff drought in 2018
Prep Football

Originally Published: August 10, 2018 10:26 p.m.
PRESCOTT — Prescott head coach Michael Gilpin summed it up best when he said, "We seem to have this conversation every year," when asked Thursday during practice if the Badgers can finally get over the hump this season and make the playoffs for the first time since 2012.
He's not wrong. Questions like that usually come up in season previews, especially when the hometown team has lost out on a state playoff bid so dramatically in each of the last five years.
The Prescott football team, recently picked to finish third in the region via an inaugural 2018 Grand Canyon Media Football Poll, has gone 6-4 (2013), 7-3 (2014), 7-3 (2015), 6-4 (2016) and 7-3 (2017) in the last five seasons, each of which ended bitterly without a playoff bid.
And in each of those five season, either Mingus, cross-town rival Bradshaw Mountain, or both, have made the state playoffs after handing the Badgers a defeat.
2018 Prescott Football
Conference: 4A
Region: Grand Canyon
2017 Record: 7-3
2017 State Playoffs: DNQ
Coach: Mike Gilpin, third year
2018 Players to Watch: QB Austin Clark, Sr.; SS Colton Amos, Sr.; DE/TE Aaron Greene, Jr.; RB Silas Espitia, Jr.;
2018 Schedule:
Date Opponent Time
8/17 Desert Edge 7 p.m.
8/24 at Canyon Del Oro 7 p.m.
8/31 at Moon Valley 7 p.m.
9/7 Deer Valley 7 p.m.
9/14 at Flagstaff* 7 p.m.
9/21 Bye Week N/A
9/28 Coconino* 7 p.m.
10/5 at Bradshaw Mountain* 7 p.m.
10/12 at Mohave* 7 p.m.
10/19 Lee Williams* 7 p.m.
10/26 Mingus* 7 p.m.
11/2 State Playoffs# 7 p.m.
11/9 State Playoffs# 7 p.m.
11/17 State Semifinals 7 p.m.
12/1 State Finals TBA
4A Grand Canyon Region Game
High Seed
Last fall, Mingus walked all over Prescott on their home turf in a 38-6 drubbing. The Badgers responded with three straight wins to end the season, but it was too little, too late. History would once again repeat itself.
The Marauders finished No. 17 in the power point poll, but because they defeated No. 16 Prescott to finish 5-1 in the Grand Canyon region, they were in, and Prescott was out.
"The goal is to win football games. We've come up short year after year after year and it's getting old," said Gilpin, who is entering his third year as head coach. "The boys are done with that. We missed it by a hair last year. These boys want to get into the playoffs, and I believe they are going to."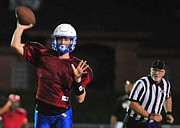 That "belief" may stem from confidence, but also a little motivation. Gilpin said the media poll predicting the Badgers to finish third in region this season has sparked plenty of talk within the team, and school walls.
"There's definitely been some talk about it on campus today (Thursday)," Gilpin said. "We don't think we're a third place team. We understand that Flag(staff), Mingus and Bradshaw (Mountain) are always going to be tough, and you have to get through those dudes to win the region. But, we just don't feel like we're a third-place team. The talk is the talk, but we'll get out there on the field and hopefully be demonstrating that very soon."
TOP RETURNERS
With plenty of experience returning from a club that went 7-3 a season ago, all eyes will be on three standout performers from 2017 including senior quarterback Austin Clark, senior strong safety Colton Amos and junior defensive end and tight end Aaron Greene.
Clark said Thursday before practice that he expects the Badgers to "expand their throwing game."
"This year, we've adopted more air raids, getting the ball out quick, and I really like that," the 6-foot-3, 200-pound quarterback said, adding the team will miss Ryan Greene at tailback, but have plenty coming back.
"We still have Ean (Porter), Sam (Giordan) and we just got Silas (Espitia), he's going to be great for the offense."
Aaron Greene, a 6-foot-5, 220 pound defensive end slash outside linebacker admitted he surprised even himself with the sophomore campaign he put together last fall, including 31 tackles, nine of which went for a loss.
"I hope that I can play as well as I can, to the best of my ability, and stay away from injury," Greene said, adding he'll play both ways this year, spending his time at tight end and maybe even in the slot when the Badgers spread the field.
Gilpin said, "You don't have to be Vince Lombardi to go, 'We need to get him the ball more.' So Aaron is going to be out there in space, and the traditional tight end role. He does damage when he gets it."
As for Amos, the third-year varsity defensive captain is looking forward to the responsibility of calling the plays.
"I'm excited to do it this year as a defensive play caller. … I have to know everyone's position so they can come to me for help," said Amos, who led the Badgers in tackles with 156 in 2017.
Amos added the media poll picking Prescott to finish third is actually bringing the team together.
"It motivates us a lot! When it came out, pretty much our whole team saw it. We're not going to lie, we're a little mad about it," Amos said. "We're not going to be third, we want to be on top. It's definitely motivation us, and I believe we have the potential to be No. 1."
NEWCOMER TO WATCH OUT FOR
Espitia, a junior transfer who was cleared in the offseason by the Arizona Interscholastic Association to play from day one, played for Youngker (Buckeye) last season.
"He's a stud. He's like the guy from the Tampa Bay Buccaneers, that Doug Martin guy. He's 5-foot-6, 185, 400-plus squat and really fast. He's going to fit in perfectly, great teammate," Gilpin said about Espitia, who is originally from Prescott.
UP NEXT
In the 2018 season opener at home against Desert Edge next week, the Badgers will see a club that finished 7-3 overall last season and earned a No. 13 seed in the 5A state playoffs a year ago.
Kickoff against the Scorpions on Friday, Aug. 17, is set for 7 p.m.
Brian M. Bergner Jr. is sports editor for The Daily Courier. Follow him on Twitter and Instagram at @SportsWriter52, or on Facebook at @SportsAboveTheFold. Email bbergner@prescottaz.com or call 928-445-3333, ext. 1106.
More like this story
SUBMIT FEEDBACK
Click Below to: